As most businesses increasingly rely on technology to drive their success, the need for robust ITSM software has never been more critical. In this blog, we explore Symphony Summit and Infraon in-depth, pitting their features, capabilities, and performance against one another. By delving into the pros and cons of these competing solutions, we aim to equip you with the knowledge to make an informed decision that aligns with your organization's specific needs and objectives.
Explore the comparison between Symphony Summit and Infraon as we highlight vital functionalities that can optimize your IT infrastructure and services. Join us and harness the full potential of your technology landscape.
Related blog: Lansweeper vs. ManageEngine vs. Infraon in 2023
Let's dive into detail about Symphony Summit and Infraon
Symphony AI Summit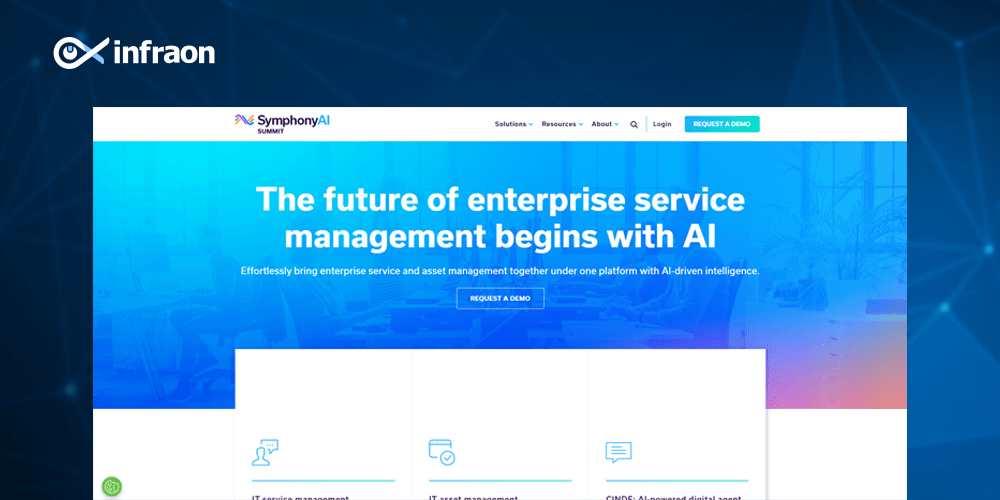 SymphonyAI Summit is an AI-powered suite for IT service management (ITSM), utilizing machine learning and workflow-based automation to streamline service and asset management throughout an organization. This versatile, multi-tenant solution can be deployed in the public cloud or on-premises, offering enterprise-wide functionalities that extend beyond IT to encompass HR, shared services, facilities, and more.
With the aid of AI-driven knowledge intelligence, CIOs and service providers can simplify operations, cut costs, and benefit from on-demand scalability. By harnessing the power of both AI and ML, SymphonyAI Summit enables IT help desks to resolve issues more efficiently, manage the entire asset lifecycle, and proactively identify and address potential IT problems.
Key features of the SymphonyAI Summit Service Management suite include:
Incident and Service Request Management
It Asset Discovery
Server/Application/Network Monitoring
Call Management
Knowledge Management
Investigation and Remediation Management
Endpoint Configuration
Audit Reporting and more
With SymphonyAI Summit, service providers can enable enterprise employees to communicate effortlessly with a digital agent to find solutions for their technology-related problems. CINDE (Conversational Interface and Decisioning Engine) incorporates advanced natural language processing technologies to comprehend the purpose behind an incident, service request, or query and delivers personalized responses.
By intelligently resolving incoming issues automatically, CINDE minimizes downtime and allows technology teams to concentrate on high-impact projects. Additionally, when human assistance becomes necessary, CINDE seamlessly transfers to a live agent, ensuring that your enterprise surpasses merely offering good service by providing exceptional service promptly, effortlessly, and in a more personalized and collaborative manner.
Pros
Simple configuration process and easy to use.
­The web services and email-to-SR integrations are extremely valuable.
Comprehensive ITSM and ITOM capabilities.
Intuitive user interface.
Cons
The Service Desk lacks a chat feature, which is available in CINDE. However, CINDE can only be utilized for a single customer instance, limiting its deployment options.
Lack of stability, functionality, and offshore support
Limited customization options
Infraon ITSM
Infraon ITSM is an all-inclusive platform designed to support your entire IT service management journey by leveraging workflow automation. It caters to the needs of SMEs, large enterprises, and telecom companies, offering unified and proactive service capabilities. With Infraon ITSM, you can get access to the advanced ITAM system to optimize your asset management and get better control over the asset lifecycle. Also, it offers an automated collaboration workspace where you can easily assign to-dos, and deadlines, track progress, have conversations, and share files easily with your team members. By leveraging artificial intelligence capabilities, it can automate repetitive tasks, answer queries, monitor tasks, and more.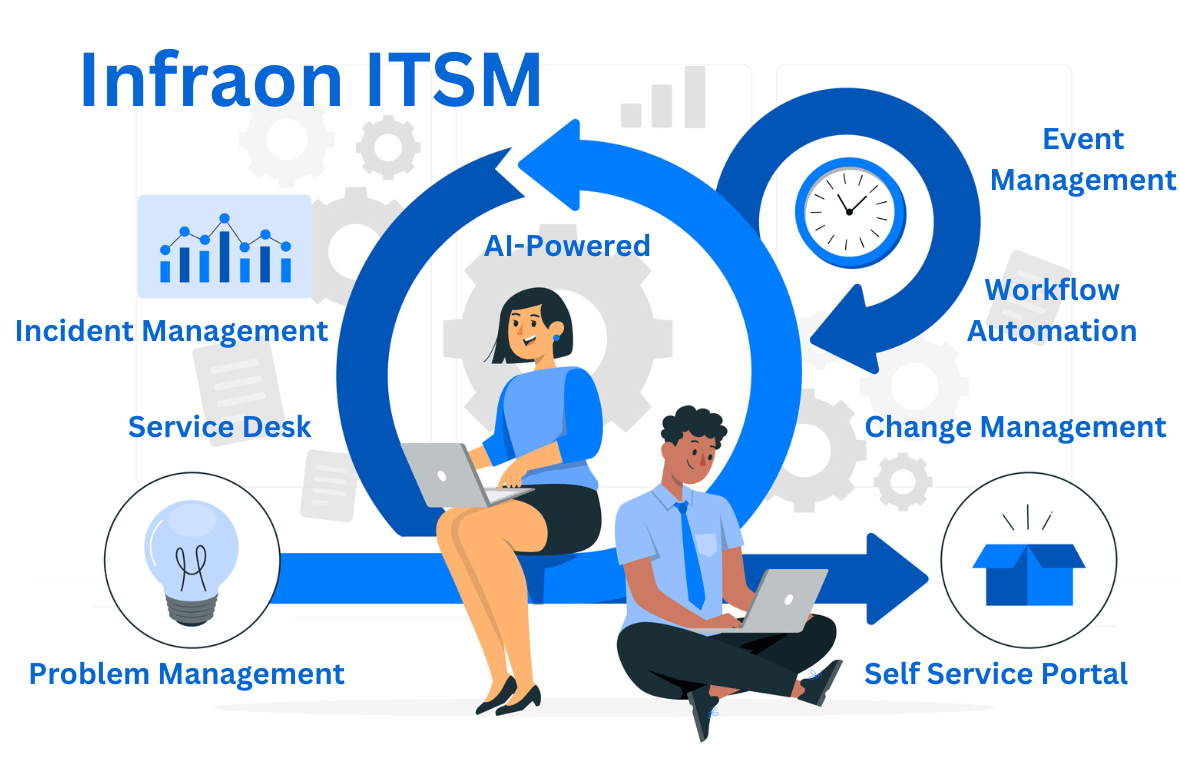 Moreover, Infraon ITSM comes with a unique self-service portal that allows end-users to effortlessly submit service requests, access knowledge articles, and track the status of their tickets. Also, its user-friendly interface and automation features help IT teams to deliver exceptional service experiences, boost productivity, and maximize the value of their IT services. This promotes self-sufficiency among users and reduces the burden on IT support teams.
Backed by an AI-powered and intuitive dashboard, Infraon ITSM fosters seamless collaboration between DevOps, IT, and business teams, ensuring prompt response to incidents and issues around the clock. Notably, it stands out in the market as one of the few ITSM tools certified by Pink Elephant for 13 ITIL processes. By offering a centralized platform, the software streamlines the process of logging, tracking, and resolving IT issues, ensuring timely resolutions and minimizing disruptions to services.
Key Features
Pros
AI-enabled ITSM software helps in auto-allocation and ticket categorization.
Ensures single-click resolution for over 80% of tickets & proactively manages the IT service ecosystem.
It is a low-code and collaborative platform which can streamline and accelerate the IT service management lifecycle.
Offers single-screen navigation for tickets.
Provides self-service portal with detailed knowledge base.
Provides advanced ITAM system that helps manage assets via agent/agent-less discovery.
Offers better control over asset lifecycle, including software asset management and software license management.
Provides end-to-end SLA management that is suitable for SMBs and large enterprises.
The software is GDPR-compliant and SOC2 Type2 certified.
Cons
It is not available as an on-premises version.
The software lacks a project management module.
It is not suitable for enterprises that use complicated workflows.
Related blog: BMC ITSM vs. ServiceNow vs. Infraon: Evaluating the best ITSM platform
Conclusion

The choice between Symphony Summit and Infraon comes down to understanding your unique business needs and the functionalities each platform offers. Thorough research and trying out demos are essential for making an informed decision. Remember, there's no one-size-fits-all solution and successful implementation depends on factors like expertise and support. Investing in your IT infrastructure is an investment in your business's future. Stay adaptable and leverage the right tools for success in the digital age!