If your company has more than a few employees, and if even one of you is the designated "IT guy," you're already applying ITSM Solutions in a small way. But as your company expands, you need to bring in more mature processes to derive the most benefits from your ITSM Solutions investment. Therefore, effective IT service management has become vital to guarantee long-term success.
While having an in-house professional IT team can address your customer's queries and provide the resolution of any IT incidents, there are many hours in the day that require continuous IT support. To that end, ITSM Solutions can provide your internal and external customers with 24/7 access to a dedicated service desk and deliver an exceptional service experience.
From establishing clear dependency mapping, and identifying service issues to automating incident response and change management, ITSM Solutions can serve as a single point of contact between employees and customers. The right ITSM processes in place can streamline service delivery, automate repetitive tasks, better connect with employees, and help drive your business productivity. But with so many big names in the ITSM Solutions world, it can become cumbersome to navigate your way and find the right match for your business-specific requirements.
Critical Considerations Before Investing in ITSM Tools
Selecting the right ITSM tools is vital to any organization as it ensures efficient and effective IT operations. ITSM tools are designed to streamline processes, improve service delivery, enhance customer satisfaction, and manage IT resources more effectively. Organizations should ask questions to make an informed choice to ascertain that the ITSM tools align with their unique needs and goals. Here are some key questions to consider:
1.   What are the specific ITSM goals and objectives?
 Defining an organization's ITSM goals is crucial. Is the organization aiming to improve incident management, enhance change management, optimize asset tracking, or achieve other specific objectives? Knowing organization goals will guide tool selection.
2.  What is the budget for ITSM tools, including implementation and ongoing maintenance costs?
ITSM tools have varying prices, from licensing fees to implementation and training expenses. Understanding the budget constraints is essential to ensure the chosen tools are financially sustainable.
3. What size and complexity is our IT environment?
The scale and complexity of IT infrastructure can significantly impact the choice of ITSM tools. Smaller organizations may have different requirements than larger enterprises with complex IT ecosystems.
4. How many IT users and assets must we manage with these tools?
 Knowing the number of users, devices, and support that need to be managed helps determine scalability and licensing requirements.
5.   What do we follow ITIL or other ITSM frameworks, and does the tool support these frameworks?
ITSM tools often align with specific frameworks like ITIL. Ensure that the tools you consider are compatible with the chosen framework for consistency in best practices.
6. Do we need on-premises or cloud-based ITSM solutions?
Decide whether the organization wants to host ITSM tools on-premises or prefer a cloud-based solution. Each option has advantages and considerations, such as security, scalability, and cost.
7. What integration capabilities do we need with other IT systems?
Integration with other IT systems can be crucial for seamless data flow and automation. Evaluate whether the ITSM tool supports integrations with your existing ecosystem. These questions serve as a starting point for ITSM tool evaluation. Beyond these, it's essential to consider factors like compliance requirements, reporting and analytics capabilities, workflow customization, user-friendliness, mobile support, and security features. Moreover, involving key stakeholders in decision-making and conducting product demonstrations or trials can ensure that the selected ITSM tools align with the organization's broader objectives and operational needs.
Here's a comparison chart for all the ITSM Solution Tools
| ITSM Features | BMC Remedy | Freshservice | Infraon ITSM | InvGate | JIRA | ManageEngine | ServiceNoq |
| --- | --- | --- | --- | --- | --- | --- | --- |
| Ticket/Incident Management | Yes | Yes | Yes | Yes | Yes | Yes | Yes |
| Email to incident | Yes | Yes | Yes | Yes | Yes | Yes | Yes |
| Email Integraiton | Yes | Yes | Yes | Yes | Yes | Yes | Yes |
| Service Catalog | Yes | Yes | Yes | Yes | Yes | Yes | Yes |
| Multiple departments use cases | Yes | No | Yes | Yes | No | No | Yes |
| Knowledge Base | Yes | Yes | Yes | Yes | Yes | Yes | Yes |
| Self-service Portal | Yes | Yes | Yes | Yes | Yes | Yes | Yes |
| SLA Management | Yes | Yes | Yes | No | Yes | Yes | Yes |
| Automated Routing | No | Yes | Yes | Yes | Yes | Yes | Yes |
| Service Request Fulfillment | Yes | No | Yes | No | No | No | No |
| Change Management | Yes | Yes | Yes | Yes | Yes | Yes | Yes |
| Problem Management | Yes | Yes | Yes | Yes | Yes | Yes | Yes |
| Task Management | Yes | No | Yes | Yes | Yes | Yes | No |
| Project Management | No | Yes | Yes | No | Yes | Yes | Yes |
| Department/team | Yes | Yes | Yes | Yes | Yes | Yes | Yes |
| Escalation Level | No | Yes | Yes | Yes | Yes | Yes | No |
| Release Management | Yes | Yes | Yes | No | No | Yes | Yes |
| Custom State and Status | Yes | No | Yes | No | No | No | No |
| IT Event Tracking | Yes | No | Yes | No | No | No | No |
To reduce your hassle, we've compiled a list of the top seven ITSM Solutions that can transform your IT support efficiency.
BMC Remedy
Ratings: 3.9/5
Pricing: Customized pricing based on organization size, module requirements, and deployment preferences. Contact BMC for a personalized quote.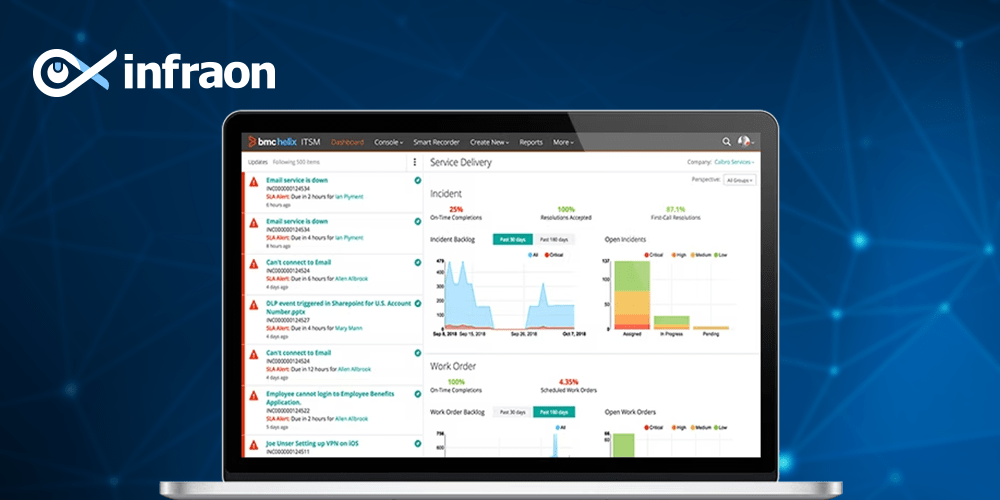 BMC Remedy is a service management tool that automates the ITIL process in the modern era. It is built on a robust platform of an Action Request System. It supports several types of service tickets, which allow users to create requests that are routed to other systems within an organization. This comprehensive ITSM solution includes a variety of applications such as incident management, change management, and service request management. It assists organizations in streamlining their IT operations and reducing their IT spending.
Top Features of BMC Remedy
Reporting
Access & Usability Administration
Change Management
Asset Management
Reports & Analytics
Help Desk
Incident Reports
Process Workflow
Ticketing System
Comprehensive ITSM features. 
Highly configurable to match unique needs. 
Handles large volumes efficiently. 
Robust reporting and analytics. 
Complex initial setup. 
Limited cross-module integration. 
Potential delays in issue resolution
Freshservice
Ratings: 4.6/5
Pricing: Freshservice offers four pricing editions ranging from $19 to $119. Visit their website for detailed pricing information and features that best suit your needs.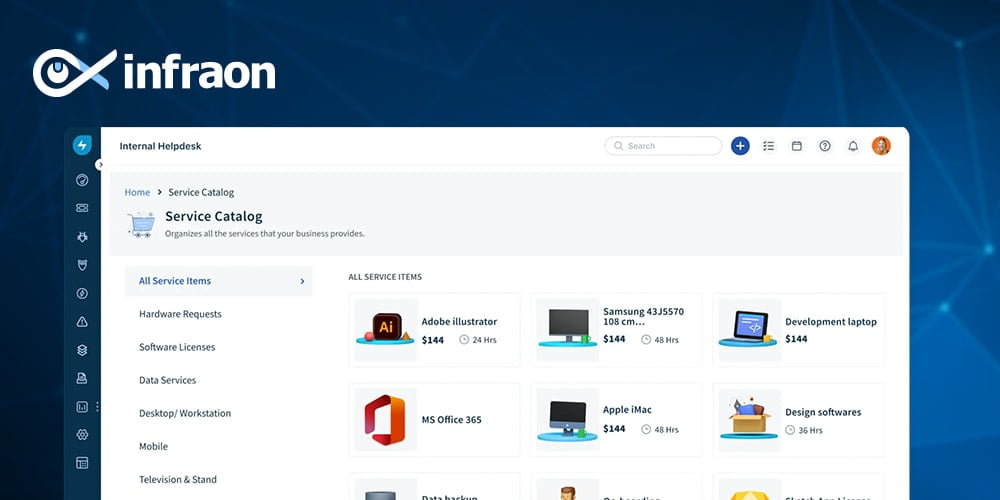 Freshservice is a unified service management solution that provides a modern approach to ITSM through its simple and intuitive tools. It uses zero-code workflows and robust automation to eliminate the need for manual and repetitive processes while enabling you to dedicate more time and resources to strategic initiatives. In addition, it provides extra resources to address any required regulations while ensuring compliance issues are being tackled.
Top Features of Freshservice
Automate Ticket Routing
Ticket Prioritization
Ticket Notifications
Knowledge Base
Knowledge Base/Ticket Integration
Dashboards
Time Tracking
Active Directory
Multi-Channel Access
Reports & Analytics
Modern, appealing UI 
Unified platform for ticket management. 
Seamless integration. 
Intuitive dashboard. 
Robust automation. 
Complex setup. 
The knowledge base needs improvement. 
Limited reporting. 
Need for integrations. 
Infraon ITSM
Ratings: 4.8/5
Pricing: There are four pricing tiers available: Essential at $18 per user per month, Standard at $43 per user per month, Professional at $54 per user per month, and Enterprise for organizations focusing on end-to-end IT Asset Management. Visit the website for customized pricing.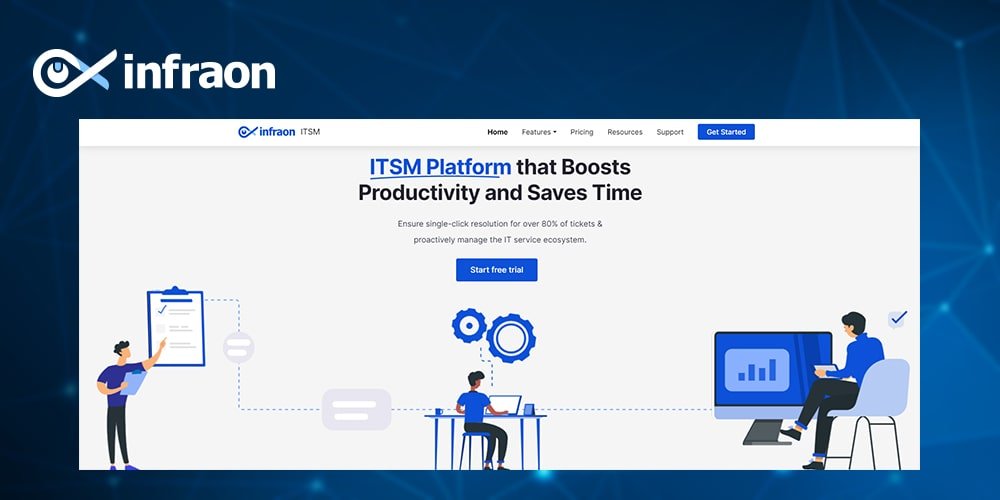 Infraon ITSM Solutions are fully integrated and ready-to-use platform that can accelerate and improve your entire asset management and IT service management journey. It has the rare distinction of being certified as ITIL V4 compatible for 13 processes by Pink Elephant. Powered by the latest AI technologies, this customizable platform can automate repetitive tasks to improve workforce productivity, enable change management, deploy a self-service portal, and more with AI/ML power. What makes Infraon ITSM Solutions apart is – that it equips your DevOps, IT, and business teams with workflow automation to respond to incidents or other issues 24X7.
Top Features of Infraon ITSM
Uses AI for smart ticket handling. 
Resolves many issues with just one click. 
It makes IT management more accessible with a user-friendly platform. 
Offers a convenient one-screen view for tickets. 
Provides a self-help portal with lots of information. 
Helps manage IT assets efficiently. 
Handles software and licenses well. 
Supports service level agreements for businesses of all sizes. 
Meets GDPR and SOC2 Type2 security standards. 
Not available for on-premises installation. 
Doesn't have a project management feature. 
There might be better choices for complex  workflows. 
InvGate
Ratings: 4.6/5
Pricing: Visit their official website for detailed pricing plans.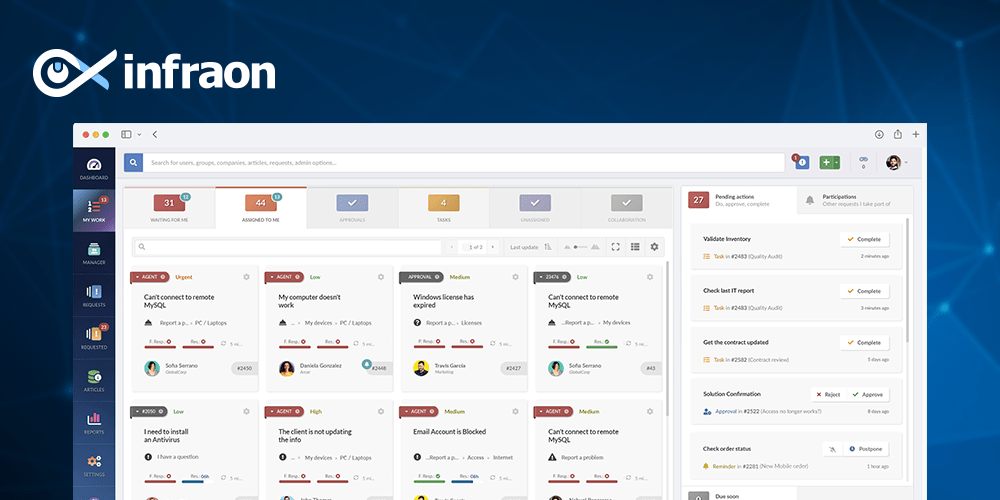 With its aesthetically appealing ticketing system and advanced reporting capabilities, InvGate can enable your agents to give better service by prioritizing problems based on SLA, urgency, and department. It also includes gamification and a knowledge library to help IT support professionals enhance their knowledge and resolve incidents faster. Also, it provides a visual workflow designer which allows you to define automated workflows to manage requests more efficiently.
Top Features of InvGate
Aesthetic ticketing system for better service.
Advanced reporting for insights.
Gamification for team motivation.
Knowledge library for faster issue resolution.
Visual workflow designer for efficient request management.
Easy-to-use interface with a clean design. 
Helps efficiently track and resolve issues with a comprehensive ticket system. 
Offers a robust self-service portal for users to find solutions. 
Customizable workflows and automation for efficiency. 
Integrates with external tools for seamless collaboration. 
Complex back-end database navigation. 
Reporting functions could be better. 
Building workflows, including basic onboarding ones, can be challenging due to limited functionality. 
Jira (Atlassian) 
Ratings: 4.5/5
Pricing: The service offers a free tier for up to 3 agents and provides paid plans with a 7-day trial. The Standard plan is priced at $20 per agent per month for teams with 4-15 agents, offering discounts for groups with 16 or more agents. For those needing advanced features, the Premium plan costs $45 per agent per month for teams of 4-15 agents, with discounts for larger teams. Additionally, Enterprise plans are available to meet more extensive needs and are billed annually.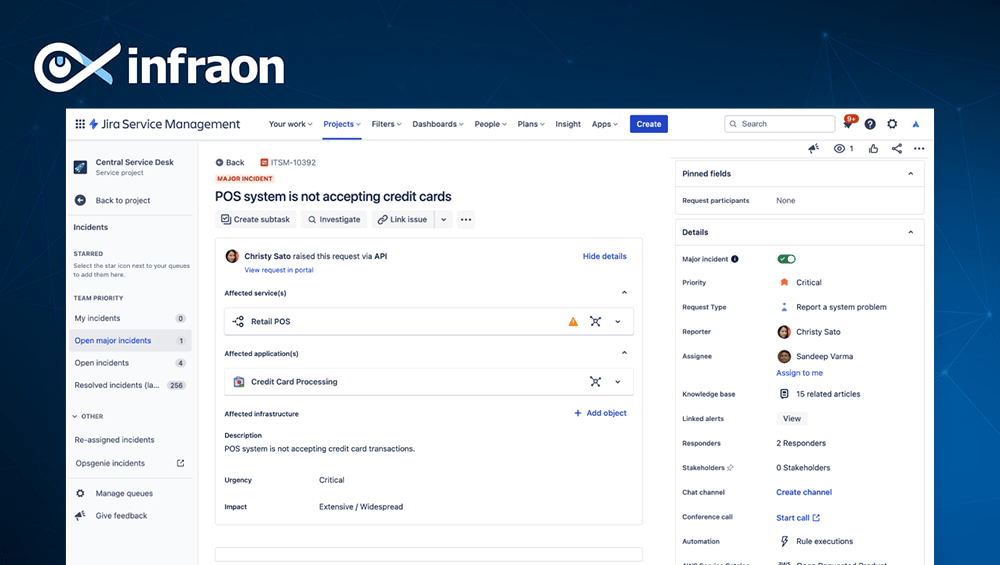 Jira Service Management, being one of the top IT management tools, allows many business departments, from IT to HR, to set up a service desk and manage user queries. With its no-code automation engine, teams can save time and boost power by automating any task or process with a few clicks. It allows your employees to use an internal self-service site to discover answers to their fundamental questions. Its knowledge base, Confluence, can surface relevant information to assist employees in finding solutions without the need for agent participation.
Top Features of JIRA Service Management
Versatile Service Desk
No-Code Automation
Internal Self-Service Site
Knowledge Base (Confluence)
Incident Management
Change Management
Problem Management
Versatility 
No-Code Automation 
Self-Service 
Knowledge Base Integration 
Incident Management 
Change and Problem Management 
Complexity 
Cost 
Customization 
Integration Challenges 
Limited Free Version 
Manage Engine
Ratings: 4.5/5
Pricing: The Standard Edition is accessible on both on-premises and cloud versions, providing unlimited features without cost. The professional edition starts at an annual rate of $495, offering additional functionalities. Lastly, the Enterprise Edition begins at $1195 annually, encompassing a wide range of advanced features to meet your needs.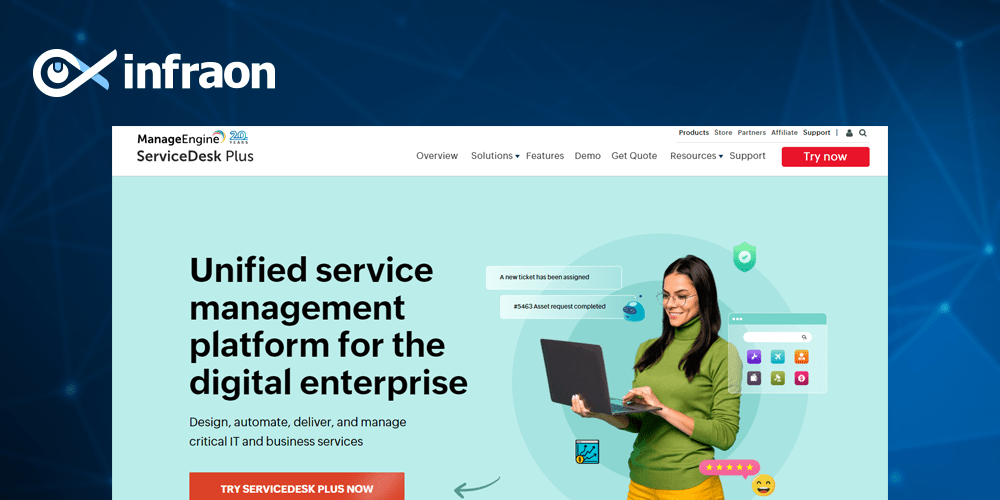 ManageEngine's ITSM Solutions are ITIL-ready help desk software that provides faster ticket resolution and increased availability of IT services, resulting in a more organized IT department. It includes all of the essential ITSM processes, such as incident, knowledge, problem, change, project, and asset management, as well as a CMDB module. Apart from a host of essential service desk capabilities, it provides the best practice ITSM workflows, powerful integrations with IT management apps, smart automation, extensive reporting capabilities, as well as codeless customizations. Deployable on the cloud and on-premises, their ITSM Solutions offer great visibility and central control in dealing with IT issues while ensuring no downtime.
Top Features of ManageEngine ITSM Solution
CMDB Module
Best Practice ITSM Workflows
Smart Automation
Codeless Customizations
Visibility and Central Control
Simple configuration and customization 
Low server resource consumption 
Includes built-in reporting 
Outstanding service catalog 
Customization options 
Limited support availability 
Complex CMDB functionality 
ServiceNow
Ratings: 4.3/5
Pricing: Visit their website for pricing details.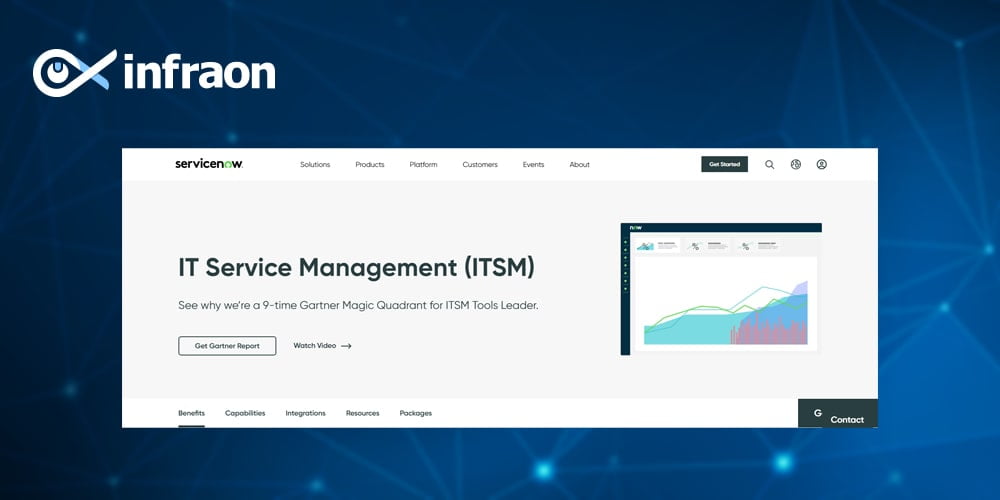 ServiceNow is another robust IT service management tool that can assist your team in identifying, tracking, and resolving high-impact incidents while also increasing agent efficiency. With this, you can automatically categorize and route issues to the appropriate resolution team. With its service level management capabilities, you can also define business expectations from the outset and receive visibility into your IT team's service commitments.
Top Features of ServiceNow
Incident Management
Automate Ticket Routing
Ticket Prioritization
Knowledge Base
Knowledge Base/Ticket Integration
Access & Usability
Self Service
Active Directory
Comprehensive IT service management 
Customizable and flexible to match specific needs. 
Automation for efficiency. 
Integration with other systems. 
Scalable for all-sized organizations. 
Steeper learning curve. 
Higher costs for licensing and implementation. 
Challenges with extensive customization and future upgrades. 
Bottom Line
Selecting the right ITSM software is pivotal for an organization's performance. A well-equipped IT team delivers better service and enhances customer satisfaction and retention. To make a wise choice, research and evaluation are essential. Consider the current needs and future growth potential. Prioritize ITSM solutions that can scale, ensuring they meet customer and agent demands.
Effective ITSM software streamlines operations, offering standardized processes and automation. Compatibility with the existing IT tools, such as monitoring systems and CRM platforms, is crucial for data flow and a unified view. Scalability and flexibility are essential, allowing adaptation to changing needs without overhauling infrastructure.
Additionally, look for training resources and reliable support from the software provider. A thoughtful selection process empowers the IT team to excel, delivering exceptional service and fostering customer satisfaction and growth.