Are you thinking about starting your own call center? It's a great way to be your own boss and set your hours, but there are things to know and steps to follow before getting started. In this article, we'll walk you through everything you need to get your call center up and running in 2023.
Determine your goals
Before you start a call center, you need to determine your goals. What are you trying to accomplish with your call center? Do you want to improve customer service? Increase sales? Reduce costs? With clear goals outlined, you can start planning how to achieve them.
Your goals will be the starting point. Now, you start your planning. You must decide what services your call center will offer, how many staff members you will need, what equipment you will need, and where your call center will be located. All of these factors will impact the success of your call center. Starting a call center can be complex, but it doesn't have to be overwhelming. Planning ahead and understanding your goals can set your call center up for success.
Decide your budget
Before you start a call center, you need to determine how much money you are willing to invest. It will help you choose the size and scope of your call center. Having a realistic budget in mind is crucial, so you do not overspend. When budgeting for a call center, you need to know how much money you can spend based on the company's monthly income and variable costs. Consider factors such as:
How many employees do you need?
The location of your call center.
The technology you need to invest in.
Budget is probably one of the most pivotal parts when it comes to the location of your call center and if you want to be on-site or virtual. You can start looking for a suitable place for your call center. You must ensure that the location is easily accessible and has good infrastructure. Once you have found an appropriate location, you need to set up the infrastructure for your call center. It includes setting up the telephone lines, internet connection, and power supply. If it is a physical location, you will also need to purchase furniture and equipment for your call center.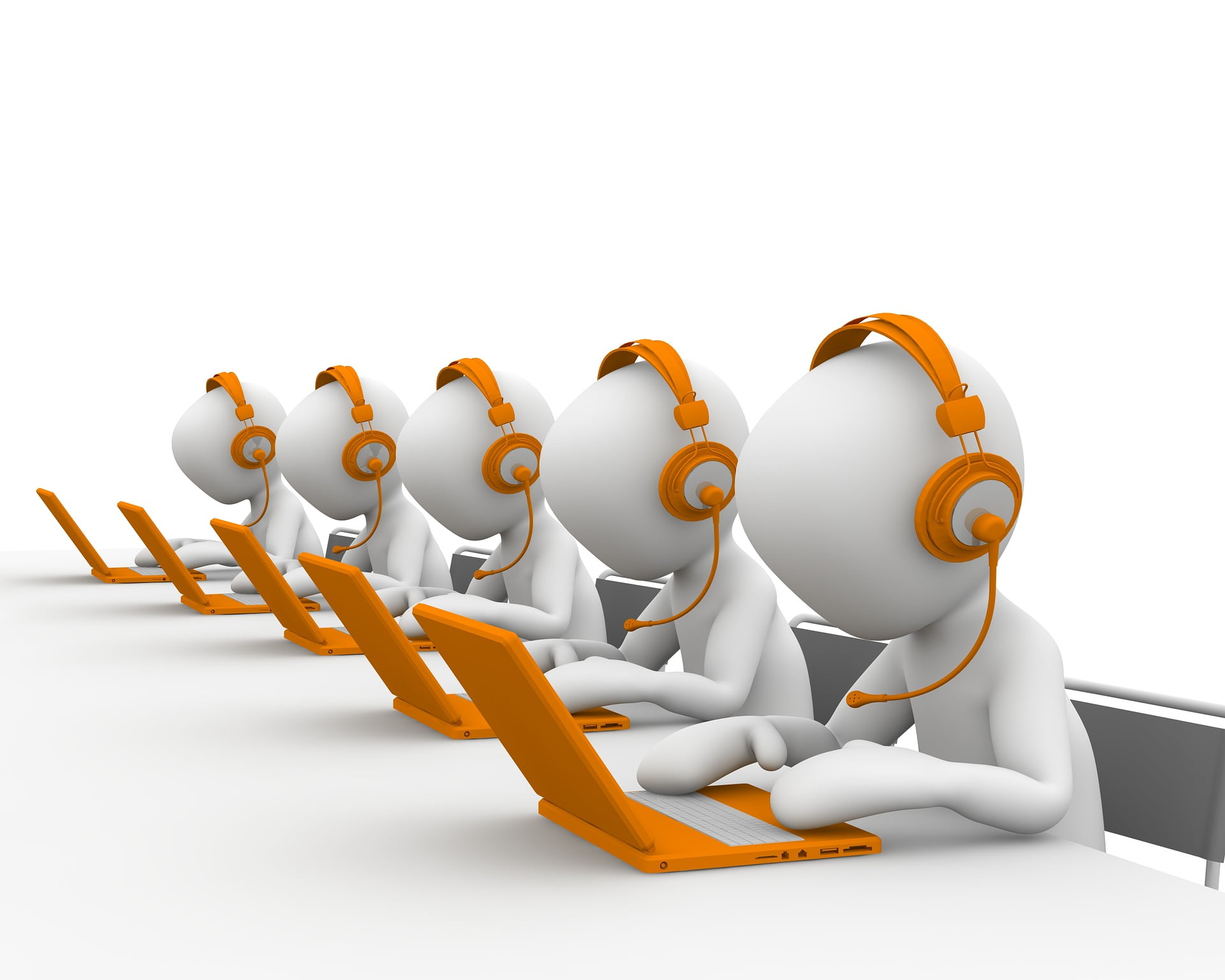 Identify what type of call center you want to start.
There are several different types of call centers, each with its own unique features and benefits. The kind of call center you want to start will depend on the specific needs of your clientele.
Inbound call center
One type of call center is an inbound call center. Inbound call centers are designed to handle incoming calls from customers. They typically have a team of customer service representatives trained to handle customer inquiries and complaints.
Outbound call center
Another type of call center is an outbound call center. Outbound call centers are designed to make outgoing calls to customers. They typically have a team of sales representatives trained to sell products or services to customers.
Related Articles: Difference between Omnichannel contact center and Multi-channel
On-site or virtual call center
You can also consider whether your call center should be on-premises or run virtually with remote workers. Once you have identified the type of call center you need, you can look at how to provide the desired call center services. Many providers offer call center services, so it is important to research to find the best one for your clients.
You may also consider those companies that outsource their calls. Business process outsourcing (BPO) is outsourcing a company's operations to an external vendor. You could become one of those vendors or be the agent who provides a niche service, such as inbound calls, outbound calls, or both.
Whatever the type of call center you start, ensure that it can be scalable, can handle increasing call volumes, and can take care of customer service needs quickly with little hassle.
Build your team.
Recruit high-performing customer service representatives. You will need to hire CSRs who are friendly and efficient and preferably come with prior experience. Handling customers and their inquiries must be a well-honed skill. You will also need to hire a supervisor or manager to oversee the call center's operations.
Set up your call center.
It includes choosing a location, setting up the equipment, and putting together a training program for your CSRs. Once the center is up and running, you will need to promote it to potential customers. You can do this through advertising, social media, or word-of-mouth.
Monitor call center performance.
Monitor your call center's performance on an ongoing basis. It includes tracking metrics, such as customer satisfaction levels, call volume, and call resolution times. Make sure to address any problems that arise in a timely manner. Using a software tool to track and monitor call performance will be worth your investment.
Train your employees.
Before starting your call center, you must ensure that your employees are adequately trained. They should know how to use the phone system and be familiar with your company's products or services. You can provide training yourself, or you can hire a professional trainer. Either way, make sure that your employees are well-prepared before they start taking calls.
Set up your phone system.
Once your employees are trained, you need to set up your phone system. You will need to choose a phone system that is reliable and easy to use, and can handle large call volumes and multiple users. There is no shortage of phone systems available, so do your homework to find the one that is right for your call center.
Find the right software and tools.
Any call center must first find the right software and tools in today's digital-first era. Finding the right tools to invest in and learning how to use them must be a priority. The software you choose should be able to handle a high volume of calls and provide features like call recording, caller ID, and automatic call distribution. You may want to consider easy-to-use software and its integration capabilities. VoIP software is worth considering as it allows you to leverage the internet to meet your needs. Instead of relying on traditional phone lines, you can significantly reduce your costs by using the right software.
In addition to the software, you'll also need a reliable phone system. It should be able to handle a high volume of calls and provide features like voicemail, call forwarding, and caller ID. Choosing a phone system compatible with your selected software is also essential. Choosing the right phone system and software is vital to providing excellent customer service.
Invest in culture.
Investing in culture is one of the most important things you can do when starting a call center. Strong work culture will help to attract and retain good employees. It will also help create a positive work environment conducive to good customer service.
Some things you can do to invest in culture include:
Hiring a good manager who will set the tone for the call center.
Creating a positive work environment, including comfortable chairs, good lighting, and pleasant decor.
Offering training and development opportunities for employees.
Encouraging open communication and feedback
Implementing rewards and recognition programs for employee engagement.
Engaged employees will walk the extra mile to build meaningful customer relationships, leading to customer retention and loyalty.

How can I start my own call center business from home?
Starting your own call center business from home is a great way to earn a living and be your own boss. While this does seem like a quick solution to make money, it needs some planning.
A quiet place
First, you need a quiet place in your home where you can take calls without distractions. It is crucial because you need to be able to focus on the caller and provide them with the best possible service. Customers will know when you are distracted and may become frustrated if they don't get your undivided attention.
Quality call center equipment
Next, you need to invest in some quality call center equipment. A headset with a noise-canceling microphone is essential. You also need a computer with a fast internet connection—these tie into the first point, where you serve your customers with complete focus.
Find clients
Finally, it would help if you found clients who need call center services. Several businesses outsource their call center needs, from SMBs to larger enterprises. You can find these businesses by searching online or contacting companies directly. Considering the type of clients, industry, and size you can handle are factors to keep in mind before approaching prospective businesses needing to outsource their call center services.
With some planning, you can get everything you need to start and be up and running in no time. To make it easier, we have listed here a couple of common questions that may crop up.
Related Articles: Contact Center vs. Call Center: What is the Difference?
How do you get a call center contract?
An essential step to starting a call center is to get a contract. There are a few ways to do this. One way is to contact businesses directly and offer your services. Another way is to go through a call center broker. A broker can help you find companies that need call center services and connect you with them.
What makes a call center successful?
The call center must have a clear and concise mission statement. You should communicate this statement to all employees, so they understand the company's goals.
The call center must have well-trained employees knowledgeable about the products or services they promote. They should also be friendly, professional, and efficient in customer interactions.
The call center must have an effective management team to oversee operations and ensure that goals are being met.
The call center must be easily accessible to customers, on-site or virtual.
Conclusion
Starting a call center can be a tad challenging, but it can be a successful and rewarding business venture with the proper planning and execution. By following the tips outlined in this article, you will be well on your way to starting a call center that is sure to thrive. And with hard work and dedication, you can create a call center that provides excellent customer service and forges loyal customers.