Businesses rely on customers. That is a simple truth. Even as organizations develop products and offer multiple services, they look for customers who buy what they sell. For, without the revenue generated by this transaction, how would they grow and develop more products to sell? You could say that customers fulfill a fundamental need for businesses to thrive and flourish. However, as they grow and the number of customers increases, managing them and their expectations can become challenging.
It is a challenge that is best overcome by an efficient helpdesk management system. Is there a system efficient enough to handle the routine demands of your customers, and is it worth the investment? The answer to both questions is a resounding yes. Therefore, it makes sense to understand all about help desk management and how it can be leveraged to ensure that the exponential growth in the customer base continues and correlates with high customer satisfaction rates.
What is a Helpdesk Management System?
A help desk management system is an application that helps organizations manage and track customer service requests. Its purpose is to streamline the process of tracking and resolving customer service issues, from initial contact to resolution. The help desk management system typically includes a ticketing system, which enables customer service reps to track and manage service requests. The system may also have a knowledge base, which can be used to store and share information about common issues and resolutions. It can also track customer service requests from multiple channels, such as phone, email, web, and chat. And can also be used to track and manage service requests from internal employees.
Simply put, a help desk management system can help organizations improve their customer service operations with a centralized place for tracking and managing service requests, including identifying and resolving common issues more quickly.
Why is a Help Desk System important?
Today's customers don't appreciate waiting to get connected to the help they need or being put on hold endlessly. The more frustrated they become, the easier for them to walk away to your competition. The more straightforward solution is to have a robust help desk management system that will leave a lasting and positive impact on customers while increasing agent productivity and offering various benefits to business operations. For instance, a help desk management software:
Gives businesses a central place to track and manage customer support requests.
Helps businesses prioritize and route customer support requests to the appropriate team or individual.
Enables businesses to track customer support request trends and identify areas where improvements can be made.
Monitor customer satisfaction levels and take proactive steps to address any concerns.
Save time and money by automating customer support request processes.
Therefore, the importance of a solid help desk management system cannot be underestimated, especially for businesses that focus on retaining their customers and ensuring steady business growth. Help desk management software has several essential features that offer solid and multiple capabilities to empower your customer support initiatives.
Features of a Help Desk Management System
A Help Desk Management System streamlines the process of tracking and resolving customer service issues. It allows organizations to keep track of customer inquiries and problems and monitor and report on the customer service team's performance. The main features of a Help Desk Management System are:
Ticketing:
This is the process of tracking and resolving customer service issues. Customers can submit tickets through various channels, such as email, phone, or web form. The help desk software then assigns the ticket to the appropriate customer service agent.
Reporting:
A Help Desk Management System provides organizations with valuable insights into the performance of their customer service team. Reports can be generated on various metrics, such as response time, average resolution time, and ticket volume.
Knowledge base:
It is a collection of articles, FAQs, and other information that can be used to resolve customer issues. A Help Desk Management System typically includes a searchable knowledge base, so that customer service agents can quickly find the information they need.
Live chat:
As a popular customer service channel, live chat functonality is built into a Help Desk Management System. This allows customer service agents to resolve issues in real-time without needing phone calls or emails.
Self-service:
A self-service portal is a web-based portal that allows customers to find answers to their questions without the need to contact customer service. This can reduce the volume of tickets submitted to the help desk and free up the agents to focus on more complex issues.
Many channels-one location:
Help desks consolidate various support channels into one centralized location. Customers can move from channel to channel with zero interruptions. A service portal, virtual agents, mobile applications, integration with popular collaboration tools, and walk-up experiences for in-person conversations are among the support channels.
IT support agents and their visibility
When support agents use their personal mail to handle their emails and support tickets, there is zero visibility into their activities. A centralized help desk management system can help track their productivity and collect data to help the agents with their performance. It can also reduce the mean time to resolution.\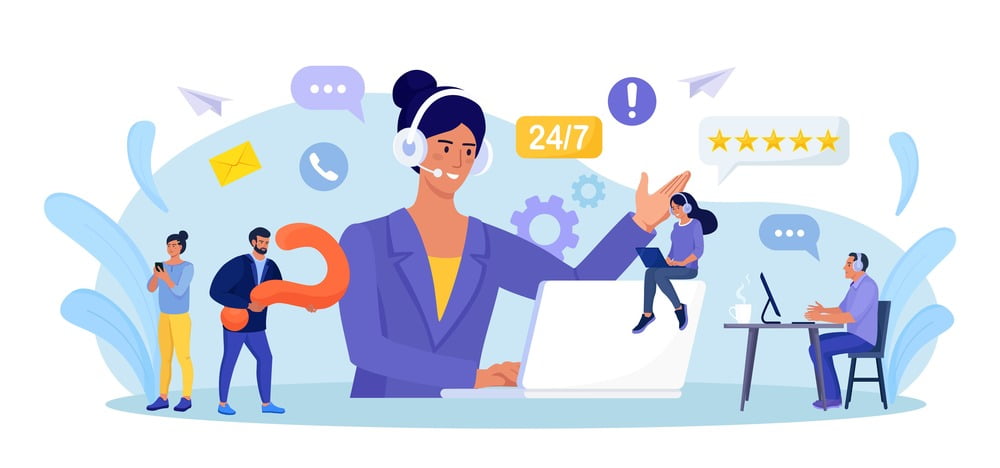 Deep insights into customers and employers
The help desk management system's inherent analytics capabilities can provide insights into the history and trends through past interactions. These insights can help offer a more personalized service experience. They also provide feedback with actionable insights into your products and services.
Automation-enabled
Help desk systems offer automation to eliminate routine, repetitive tasks, including notifications to employees and assigning tickets to the appropriate agent or team. Automation helps free up the support agent's time with a more reliable and accurate automated response.
Help desk management systems are here with scalable and reliable features to benefit businesses of all sizes, irrespective of the industry.
What are the benefits of a help desk management system?
Customer satisfaction
Customers want their queries to resolve quickly and with minimal effort. You can ensure First Contact Resolution (FCR) by being proactive. Keep them informed with timely updates about the status of their complaint. You can also make it easier for them to reach out for support via the channel of their choice. A helpdesk ticketing system creates a ticket for every customer interaction, irrespective of the platform through which it is initiated.
Agent productivity
Automating the repetitive task to help the support agents helps them attend to more meaningful work. Using the vast knowledge base, agents can access a centralized information repository to help them quickly solve customer complaints. Also, the unified interface can support agents with a 360-degree view of the customer, enhancing the agent's ability to serve the customers well.
Streamlined operations
A help desk system can streamline business operations to meet the SLAs and prioritize tasks and actions. The intuitive graphs highlight the tracking and monitoring of the contact center and enable data-driven decisions to improve business processes.
A centralized help desk management system puts control in the customers' hands. You can meet their requirements with the channel of their preference as the system can support multiple channels, including social posts, email, chatbots, direct messages, etc.
Scalability
A smart help desk system will enable easier creation, sorting, and assigning of tickets, eliminating the need to hire more agents or upskill the existing service teams. Moreover, it will allow the senior agents to take on high-level work and additional responsibilities. The help desk management system offers scalability to grow with the business without incurring other expenses on resources.
Prioritized tickets and routing
An automated helpdesk support solution can distinguish high-priority queries. Based on the urgency, the tickets can be routed to the appropriate team based on skill and domain expertise.
At their most basic, help desks are where employees and customers can request and receive assistance with IT-related issues, especially when it is to do with products, platforms, services, and devices. A help desk may be a single employee with a deep understanding of relevant technologies, and who can handle common problems. In larger businesses, help desks may use a team of experts with software tools to address rising issues. Whatever the system, there are ways to make help desk management 100% effective. You may only need a few hacks to optimize your system for high customer satisfaction ratings.
Help Desk Management Hacks
Ticket automation
A help desk's main objective is to simplify and streamline your current processes. Nearly all of your core operations can be made simpler with a good help desk. For efficient ticket management, look at what you can eliminate rather than what you need to add. Ticket automation should be your first change for efficient ticket processing and management.
Integration capabilities
Automation, BI, analytics, CRM, and AI-powered self-service are today's essentials in a help desk system. A help desk system can't be a stand-alone application and must have integration capabilities to work with applications that offer additional services. Flexibility is key to an effective help desk management system.
Scalability and sustainability
The ability to scale up or down in help desk software is necessary. Any business aims to grow, and acquiring different systems as you grow is not only wasteful but also chaotic. You will be forever starting from scratch. Instead, a scalable help desk management system will grow at pace with your business and be sustainable in the long term.
Enhanced end-user experience
It is no longer enough to resolve tickets and update the system with closed tickets, not if you want to retain your customer's loyalty and business. A help desk management system is more than a tool if used properly. It is a way to enhance the overall customer experience. It must include shorter wait times, personalized attention, and multiple language options, making every step of the process meaningful. Your help desk system must be able to keep your customer yours for life.
Final thoughts
Is it enough to invest in smart help desk management software and implement it in your business? No, as it is only the first step towards improving customer service. What you need is to ensure that the system works optimally and your support teams are trained to leverage all its capabilities. It is the best approach to having the highest customer satisfaction scores and having customers return to you, time and again.