In the race to drive rapid digital transformation, many companies fall into the trick of increasing their IT spending while underutilizing their existing investments. Although implementing the right technology can reduce costs, what happens when it's time to evaluate how much your company is spending on information technology? If you feel that your IT budget is too constrained to keep up with emerging requirements, you are not alone. Many technology entrepreneurs and business executives find it challenging to meet demand while operating on a limited budget.
Related article: Why SaaS equilibrium is crucial to surviving the recession
Furthermore, a CIO Magazine survey findings discovered that smaller organizations spend more than the recommended range of 4-6% on IT infrastructure costs, at almost 6.9% of their revenue. Larger firms spent 3.2% on average, whereas medium-sized enterprises spent 4.1% on average. While it is beneficial to put money into modern technologies, tools, and systems to keep pace with constant change, what's more important for organizations is – to enable IT cost optimization techniques for successful business outcomes as well as the overall ROI from IT investments.
Let's have a more detailed look at IT cost optimization!
Related Blog: How to optimize your ITOPs expenses during a financial crisis?
What is IT Cost Optimization, and Why is it Important?
The process of regularly assessing an organization's operational technology processes to identify cost-saving opportunities is known as IT cost optimization. This procedure entails the following:
Getting the best price for business purchases.
Standardizing and simplifying costing technologies.
Automating and digitizing IT and business procedures to reduce costs across an enterprise.
When executed correctly (and consistently), IT cost optimization can instill a culture of effective cost management across the entire organization. Also, organizations can increase performance, streamline cash flow, and create higher efficiencies in the supply chain, inventory management, and production operations. Regular cost optimization efforts can also assist in building a flexible and agile organization while streamlining day-to-day processes to reduce costs and free up resources. Furthermore, by adopting a strategic cost optimization approach, business leaders can also make better budgeting and spending decisions while investing in growth and digitalization activities.
What is the Difference between Cost Reduction and Cost Optimization?
A significant difference between the two concepts is that cost optimization is typically an ongoing, evergreen effort, whereas cost reduction is a one-time effort designed to satisfy an immediate budgetary goal or limitation. While cost optimization is undoubtedly a more comprehensive and thorough approach – systems, tools, procedures, and specialist knowledge can assist your business in maintaining its efforts.
Moreover, cost reduction is often a short-term way to reduce spending. However, cost optimization is often a long-term, ongoing activity to reduce unnecessary spending so that you can increase investment in areas that produce the highest return on investment. Although reducing expenses might sound desirable, pursuing cost optimization ensures that all products and services are competitively sourced and acquired at the best rates possible.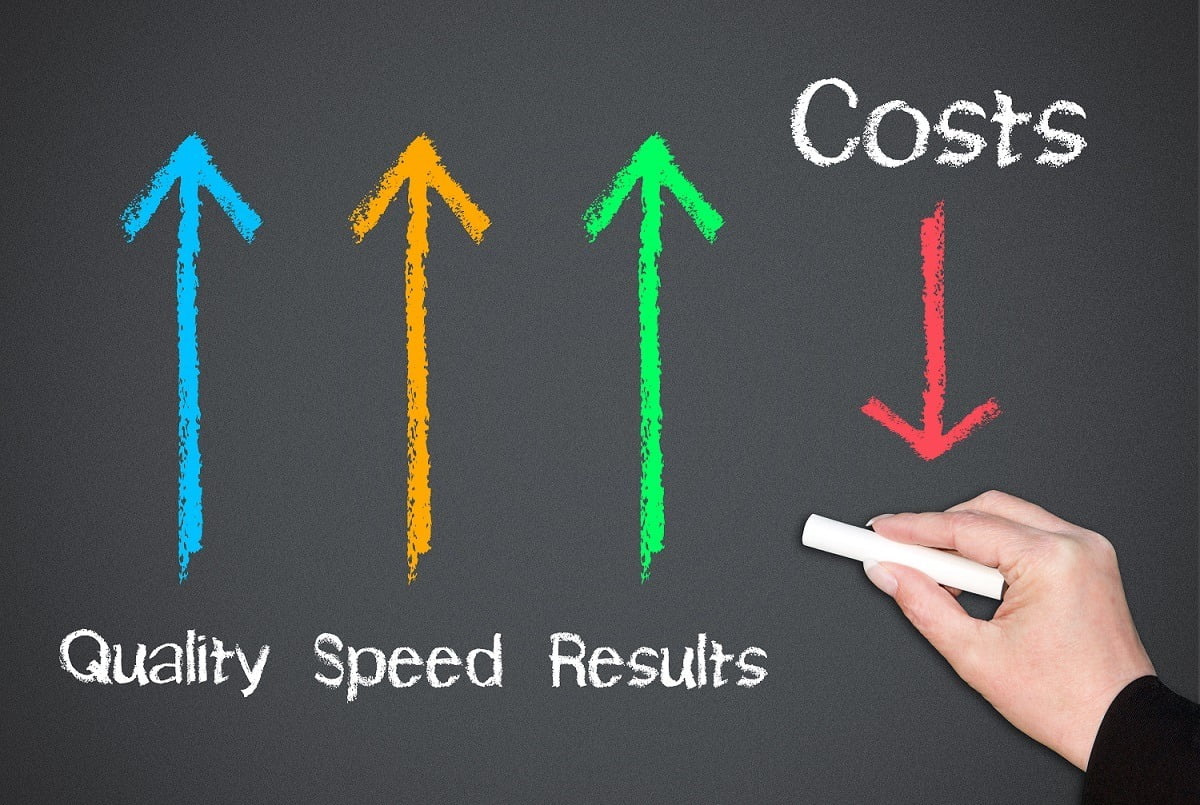 Key Strategies for IT Cost Optimization
Cost optimization strategies that are properly implemented can increase profitability and the return on technology expenditures. With that being said, let's move on to the specific strategies for IT cost optimization:
Integrate and Modernize Data Centers
The cost of operating data centers will rise as businesses expand, which drives some enterprises to switch to a data-center switching architecture. Bringing every storage provision into a single data center will inevitably reduce costs and maintain the simplicity of operations. Data center consolidation is one of the best cost optimization strategies that will reduce spending in the long run.
Data consolidation is the process of collecting data from several departments and locations within an organization and storing it in one place for convenient access and monitoring. Data consolidation has advantages like increased operations and flexibility, more data openness between departments, and more energy efficiency. Additionally, companies can cut between 10% and 20% off their overall data center spending.
Hybrid Cloud Implementation
Cloud storage has become quite popular for many businesses aiming to optimize costs dramatically. According to the survey conducted by Cloud Security Alliance, 86% of companies already include cloud computing in their budget. So why is this such a wise move? Moving to the cloud enables businesses to reduce operational costs by 15.18%, total IT expenditures by 15.07%, and IT maintenance costs by 16.76%.
A cloud-first approach can help your organization by being:
Cost-effective: You don't have to pay the additional time, money, or resources necessary to construct hardware for on-premise solutions.
Scalable: Unlike internal systems that need a complete infrastructure overhaul for expansion, cloud hosting platforms are extensible and simple to scale.
Recoverable: Physical databases may malfunction as a result of hardware failure, calamities, theft, etc. On the other hand, cloud databases are regularly backed up and can be recovered quickly with no downtime.
Benchmark Your Spending
Benchmarking your spending is an established method of keeping track of your costs and making the necessary adjustments. You can benchmark your IT spending in the following methods.
Benchmarking against openly available industry standards could be the simplest approach. Research websites like Computer Economics, Gartner, Forrester, etc., provide access to industry metrics.
Another alternative is to compare relevant indicators to specific peers or competitors. This approach is a little more challenging, but it offers a trustworthy comparison.
Another option is to compare metrics across internal business units, departments, or branches to determine the value that your technical assets add to various organizational segments. Multinational companies that conduct business in multiple different regions typically profit from this.
Optimize Software Licensing Management (SLM) Capabilities
Owing to the hybrid business model, more companies are now spending money on cybersecurity software as well as productivity and collaboration solutions. Without keeping track of the various software tools' licensing requirements, managing them can result in noncompliance, which could incur penalties and true-up expenses. By managing your software licenses, you can reduce these costs.
Using a powerful SLM tool, you can track, document, and optimize your entire license costs. Continually check the status of each of your subscriber licenses for compliance, payment, and renewal. To prevent exceeding your software budget, you can also perform in-depth reports to find underused or unassigned software applications and revoke licenses for unused copies. You may cut IT expenditures and maintain compliance with international laws by keeping an eye on your licensing structure.
Invest in an ITAM solution
When it comes to reducing IT costs, you should consider the idea of deploying dedicated asset management software. Investing in an efficient IT asset management (ITAM) solution that comes with unified endpoint management capabilities can manage your tech landscape from a single space. It can track your software inventory and monitor license expenses and compliance status.
Furthermore, an ITAM solution also offers procurement management so that you can forecast inventory needs and manage vendors, purchase orders, and contracts. With ITAM, you can run detailed reports and track metrics of your preference to update your senior management about the ultimate value that your IT budget brings to the organization.
Related Blog: Say goodbye to booming infrastructure costs by doing IT asset management right
Plan Technology Roadmap and Budget
Prior to activation, it's critical to plan your technological roadmap, estimate your budget, and understand how IT services will be provided. It is possible to plan life cycles, find optimization opportunities, and enhance resource planning and allocation using road maps, which offer a thorough perspective of your IT environment.
Roadmaps assist in resource evaluation for businesses and reveal IT overlaps. This enables firms to accelerate planning cycles, predict outcomes, and invest funds wisely.
Related article: Why SaaS equilibrium is crucial to surviving the recession
Final Note
As a final thought, be aware that IT cost optimization serves as a bridge between the financial and technology departments, ultimately affecting the entire business. It cannot be accomplished overnight. It is a method that can be started and developed over time. You need to put a lot of thought into this intricate plan if you want to succeed. By paying attention to the six strategies we've outlined above, you will be well on your way to optimizing your costs and maximizing your use of the technology.