As a business leader in a manufacturing company, it is essential for you to manage quality service operations from field service to production and delivery. To maintain a successful manufacturing business unit, you must inspect and maintain a variety of important equipment and machinery on a regular basis, which, no matter how high-quality, are still prone to failures and breakdowns. A critical part of this is minimizing machine downtime, which includes machine setup/changeover time and unexpected downtime. The good news is that now you can turn the whole situation around by leveraging the right IT service management software (ITSM Service).
With the right ITSM service, you can automate and track various components of manufacturing operations in a centralized way. The system usually entails dispatching workers to clients' sites to install and maintain equipment. It gives field technicians constant access to service tickets and, if necessary, changes in requests. Also, it provides control over your IT assets by performing real-time analysis and tracking of available IT equipment and resources such as devices, network components, software, contracts, licenses, and more.
Furthermore, an ITSM service assists your manufacturing business in managing field resources and coordinating with them so that everyone is aware of the status of work, whether it is in progress, completed, or pending. ITSM solutions tend to be effective tools for empowering your field service practitioners to supply proprietary services to clients as customer requirements get more complicated and their demand for quick resolution grows.
How ITSM service software has become a game-changer for manufacturing companies?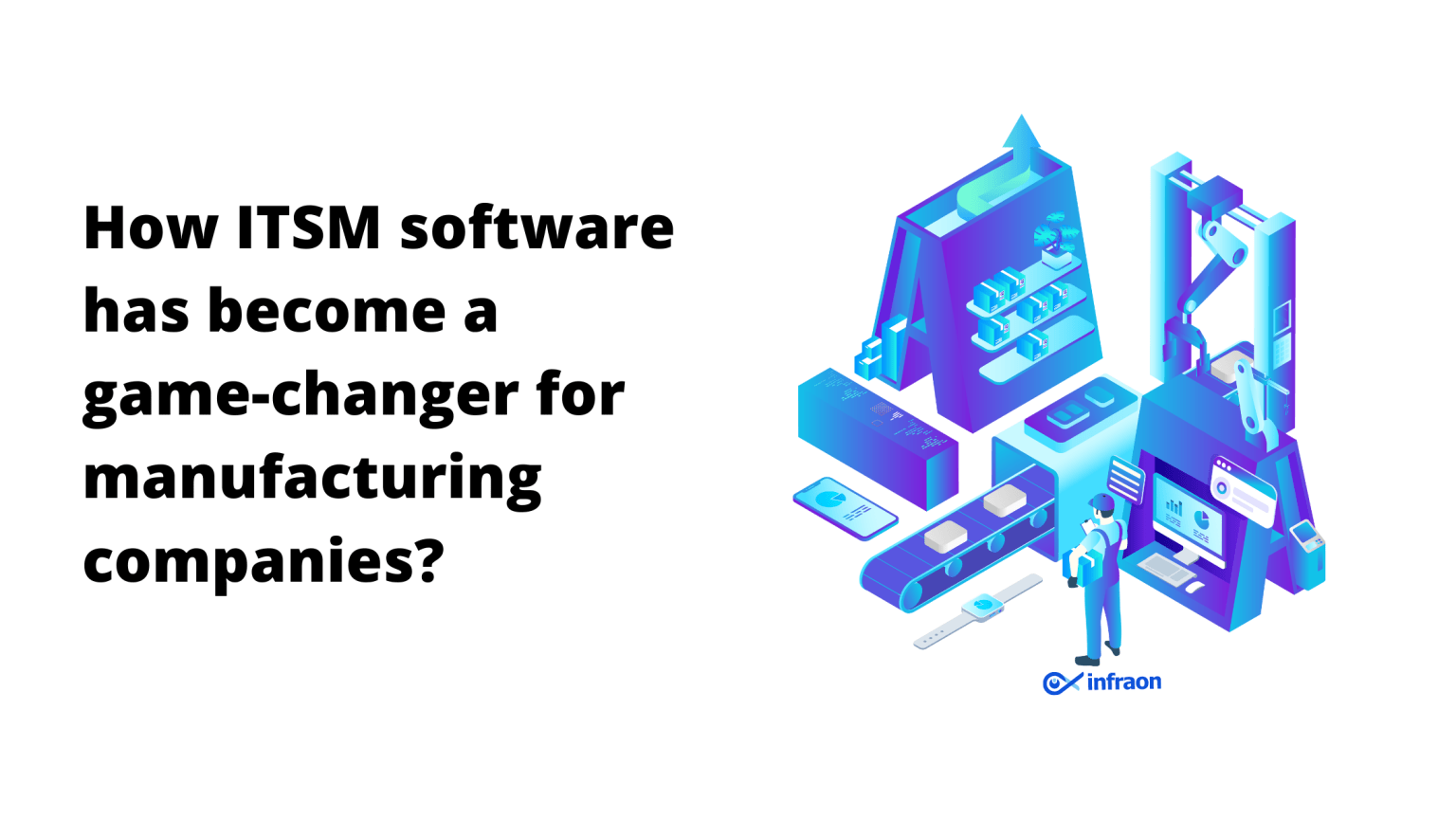 Faster Completion of Tasks
As a manufacturing business leader, you understand that every minute counts. For example, the less time your technicians spend looking for the best routes, the more billable hours they'll have on hand to complete more jobs. How much time does it take your company to plan operations or map out preferred routes? Isn't that a lot of time? But, you can automate all your administrative activities with ITSM service and allow your staff to execute tasks faster and more efficiently. 
Reduces Operating Costs
An ITSM service can help you save money in a variety of ways, from decreasing hardcopy paperwork to managing work orders and optimizing routes. Consider how much money your field workers spend on paper and printing, as well as scanning, storage, and filing—all of which are related to document management. Simply switching your field service operations to a fully automated system will help you save a lot of money. 

Modernizes Enterprise Asset Management
Without a structured ITSM service, the IT teams of your manufacturing company struggle to manage software, hardware, and workplace assets. The lack of core ITSM practices affects the IT team's ability to establish standard processes and facilitate consistent accounting and end-to-end asset lifecycle management.
Having an ITSM service would allow your company to monitor the disparate range of tools that your teams were using across the organization. Also, it can track your assets from procurement until disposal, along with real-time audit and reconciliation capabilities.
Increases Equipment Uptime
Excessive unplanned maintenance often leads to unnecessary equipment damage, which impacts your overall manufacturing unit efficiency. Equipped with a wide range of interfaces and technology, an ITSM service tool collects the right data at the right time for earlier detection of necessary repair of the equipment. Also, it drives high levels of performance and reduces downtime in your equipment.
Shortening Work Order Lifecycle
ITSM service guarantees that the correct technician is allocated to a task and is provided with reliable data. This not only makes the automation of your work orders easier but also allows you to better manage the lifecycles of each service request. With an ITSM service tool, you'd be able to see the status of a work order at each stage and get real-time insight into the resources being used and their availability from a single platform. 
Improving First-Time Fix (FFT) Rates
The first-time fix rate is a metric that assesses a field technician's ability to complete a task with good quality for the first time without the need for additional support or repeat trips. As a result, the better the field personnel performs, the greater the first-time fix rate is. This would enhance the percentage of happy customers and improve sales revenue.
The connected field service integration provided by ITSM service improves first-time fix rates substantially. Also, it provides predictive insights into the received requests for maintenance and repair jobs, which helps you better equip service technicians in advance. As a result, the given issue is going to be resolved successfully in the first go.
Empowering Technicians with Information
Self-service portals are provided by the ITSM serivce tool to provide technicians with remote help and quick access to relevant information. This assists field service professionals in understanding customer needs, remaining compliant, staying safe, troubleshooting, and completing assigned tasks effectively.
Reducing Field Service Costs
An IT service management software includes multiple features that dramatically increase the efficiency of your field operations. This optimizes scheduling and routing, significantly reducing technician travel time. Also, unnecessary fuel and resource maintenance expenses are avoided. A reduction in expenses results in an increase in savings on service costs.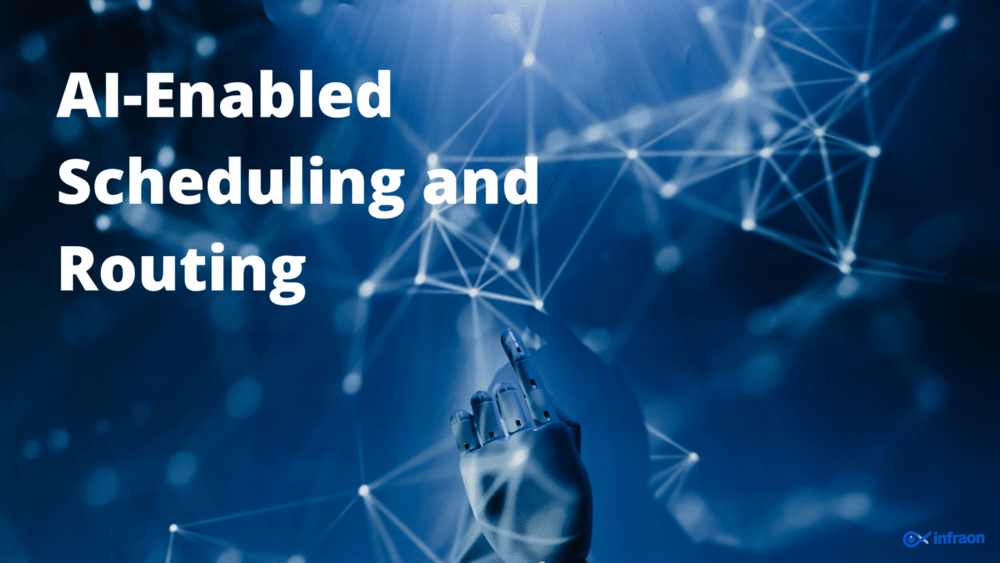 AI-Enabled Scheduling and Routing
Improper task scheduling causes several issues for service technicians, and they frequently arrive at their assigned job site with insufficient information or resources. As a result, they must make multiple trips to complete a single task. But, an AI-enabled ITSM service eliminates this issue. It provides service technicians with all the information they need to determine the resources and time needed to complete their assigned job.
Final Thoughts
While it is critical for manufacturing companies to embrace ITSM service software holistically in order to improve productivity in their field service area and asset management, it is even more important to select the right ITSM service. When assessing ITSM service, consider a system that provides best-in-class domain-specific solutions and enables manufacturers to be agile and evolve over time to ensure a good ROI.