As a key decision maker in a healthcare organization, you have to deal with a lot of expensive assets to deliver quality care on a daily basis. From ECG equipment and pacemakers to MRI machines and laboratory microscopes, all these assets can impact the way your doctor/nurse/physician assistant provides the treatment. But how do you manage these huge amounts of assets, consumable inventory, and a long list of expiration dates and warranties?
Although the lure of using spreadsheets to track healthcare assets can be appealing due to their minimal setup and maintenance costs, doing so might have negative long-term impacts. With thousands of medical equipment and devices to register, the process of manually tracking and entering data might be daunting. Eventually, this poses a severe threat to how you track your medical assets.
Hence, having the right tools in place to help maintain and manage your healthcare assets is the perfect solution. Implementing a dedicated asset management system is the right course of action when requiring greater asset visibility into your hospital assets. It helps you to get the most from your medical equipment and machinery.
Before we delve further, let's cover the basics.
What is Healthcare Asset Management?
In a nutshell, healthcare asset management is nothing but a highly organized and efficient system of planning, acquiring, maintaining, using, and disposing of the machinery, equipment, and physical assets of any healthcare organization. The typical scope of a software asset tracking solution for the healthcare sector includes ward management, layout, facilities management, intensive care, surgical care, and a number of other aspects.
Effective hospital asset management includes making the best use of physical resources to raise the quality of care provided to patients. Many healthcare facilities around the world have been compelled to embrace efficient asset management technologies and solutions as a result of increased attention on better managing the current assets and workforce. This has fueled the expansion of the healthcare asset management market.
According to market and research "The healthcare asset management market is expected to reach USD 35.19 billion by 2023 from USD 6.89 billion in 2017, at a CAGR of 31.4%.
Having efficient and properly functioning assets on hand 24/7 is critical for the healthcare industry. With asset management in place, you can easily track and locate assets when they are unavailable and might have gone missing. This allows your medical staff to spend less time in tracking down the medical equipment that got lost. Also, asset management plays an important role in ensuring that the critical equipment within your hospital is well-maintained, tested, and kept in a reliable working condition at all times. Furthermore, implementing a health assets management tool in your healthcare facility will:
Allow your staff to quickly and easily locate medical equipment in real-time
Reduce procurement costs to replace lost or stolen equipment
Track an asset's ROI and record a true value
Ensure accurate usage and performance data of your assets
Improve inventory management and accuracy
Create an efficient use of physical space and organized equipment storage
In addition to the obvious advantages of tracking and locating your assets, asset utilization reports can offer thorough insights into how assets are used every day within the hospital. With the help of this extensive information, your hospital management can create plans of action to reduce waste and expenses.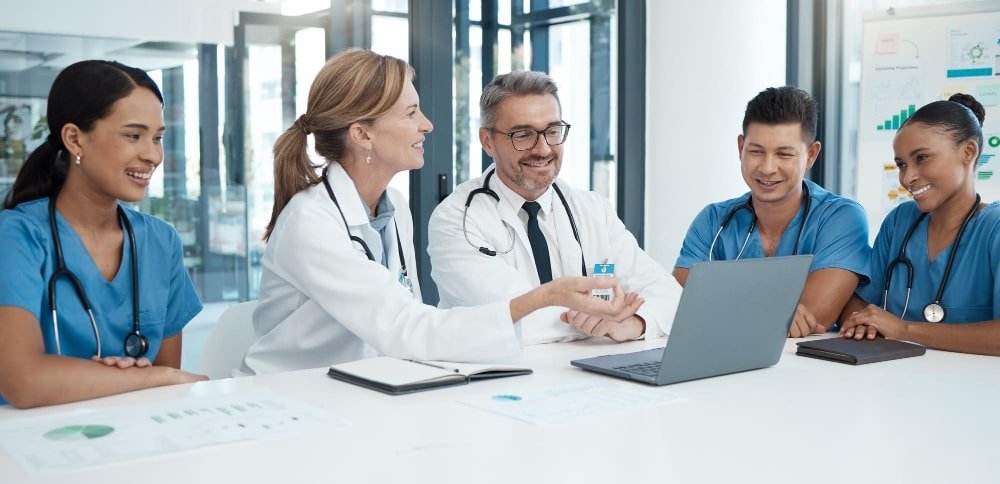 Benefits of Healthcare Asset Management
Increases Staff Productivity
According to a survey conducted by NursingTimes.net, over 30% of NHS nurses in the UK said that they spent around an hour looking for equipment during medical procedures. This costs about £900 million in wages annually and diverts nurses from patient care.
With a clinical asset management system in place, you can easily track your assets. This allows your doctors and nurses to spend less time tracking down the tools they need.
Enhances Patient Care
The most significant benefit of hospital asset management is that it can help your healthcare organizations improve the way you care for your patients. By improving the reliability of valuable assets like medical equipment across numerous sites, patient care facilities can reduce maintenance and other expenditures. These combined benefits of hospital management system can enhance the level of care that healthcare organizations can give to their patients.
Improves Risk Management
By giving vital information about asset performance, medical asset management helps your healthcare organizations with risk management as well. This is crucial for healthcare facilities that use high-risk machinery. Healthcare organizations can utilize asset management software to access key performance indicators (KPIs) and other metrics in order to handle this type of equipment to the best of their abilities.
Using this functionality, you can monitor your assets in real-time and identify potential issues. As a result, you'll be able to provide patient care in a safer setting while spending less on equipment.
Reduces Costs
Even though managing assets can be an expensive process in and of itself, costs can be significantly decreased with the use of software asset management tools. It gives you the information and understanding you need to handle orders, inventory, and maintenance more efficiently. This might make it possible for your healthcare facility to make frequent financial savings, like through bulk purchasing and improved efficiency.
Additionally, there has been a significant decrease in the costs related to asset loss prevention. Some healthcare asset management systems also include alerts for asset theft. This will reduce the likelihood of theft and the cost of replacing stolen goods.
Provides Accurate Asset Reports
There are a variety of features that asset management software might include. Since most systems prioritize compliance and reporting, it is easier to keep track of audits and data. The ability to make informed decisions on asset lifecycles, upkeep, and laws has dramatically improved. The process of providing the necessary data for inspections and management meetings is also made simpler.
Final Thoughts
Assets are something you cannot ignore or disregard in your firm. A single overlook or mistake might radically alter your company's forecasts. A strong and intelligent asset management system is the key to managing the most crucial element of your company's assets.
Whether you are running a small clinic or a large hospital, medical asset management is a crucial part of patient care. Particularly in light of COVID-19, your assets must constantly be kept sterile. Otherwise, you will lose control over your assets and may face potential risks. Hence, by investing in the appropriate asset management tools that bring value, you can improve the efficiency and quality of your healthcare environment.
---
FAQs
What are fixed assets in a hospital?
Fixed assets in hospitals consist of a substantial amount of medical equipment that is used in diagnosis, treatment, surgical procedures, and recovery, such as:
Respiratory machines
Patient monitors
Mammography units
Mobile x-ray units
Blood bank refrigerators
ECG monitors ultrasound units
Diagnostic equipment
Laptops
Examination tables
Vehicles and so on
What type of asset is medical equipment?
The medical equipment in hospitals are considered as fixed asset. These assets may include physical infrastructures and systems such as ventilation, plumbing, electrical, pumps, condensers, generators, heating, air-conditioning, refrigeration, compressors and other systems within a building.