Small business owners are constantly seeking ways to run their companies as profitably as possible while reducing waste and keeping customers happy. You may achieve all these goals by implementing barcode asset tracking software, a powerful method to boost your business's productivity and effectiveness.
A barcode system for small businesses can be transformative for efficiency, accuracy, speed, and consistency within a warehouse and throughout an organization. Most small businesses realize the ROI of a barcode system within months of introduction and reap the benefits for the years to come.
Related article: Barcode Asset Tracking System for Better Experience
By decreasing waste and increasing profitability, an efficient barcode system for small businesses can help you have better cash flow while spending less time maintaining your assets and doing administrative work. In this blog, you will learn more information you require regarding barcode systems for small businesses and how your organization may use them.
What is a Barcode System for Small Businesses?
Thanks to barcode systems: small business owners can:
Improve time management.
Lessen the frustration and errors related to manual asset tracking procedures.
Keep staff productive and concentrate on other priorities.
Cost effective.
You must give and attach a unique barcode to every one of your fixed assets if you want to use barcode asset tracking software. Barcodes are affordable and simple to order or print. With the use of a handheld scanner or even a scanner integrated into an app on your smartphone or tablet, you may access a plethora of information about the asset included in each barcode.
Inventory analysis is an appropriate next step in identifying which product lines need barcodes once you've identified why your organization might benefit from a barcode system. The things you get can already have barcodes from a supplier on some of them, not others. Perhaps your supplier has provided barcodes for each product, but the data they hold has yet to be standardized in your operations. It is time well spent to evaluate the demands of the product line before establishing a barcode system, regardless of what is or is not currently barcoded.
Benefits of Barcode Systems for Small Businesses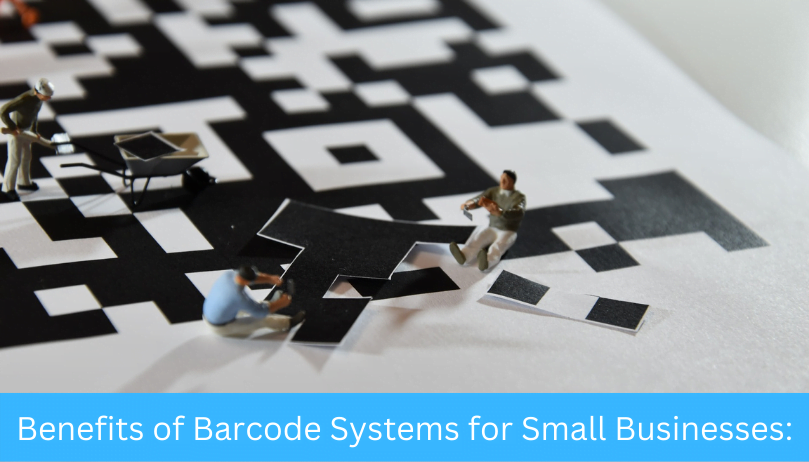 Fewer Errors:
Business owners believe that having their staff enter data manually may save money, but manual entries are inherently prone to errors. Data entry workers are relatively accurate in their work. However, they do make errors. Using barcode scanners, on the other hand, is more accurate.
A barcode system can decrease more errors than many business owners realize. A person can mishear a numeral or read the incorrect letter quite easily. Nearly everyone experiences these issues, primarily if they work in a fast-paced atmosphere.
By utilizing barcodes, you can ensure that nothing enters the system incorrectly. Each employee must scan the barcode before the system handles the rest. They will have more time in their day to finish other activities because it goes by so quickly.
Managing Inventory:
Even with tiny businesses, inventory management may be a big burden. You can only meet client requests anytime if you know what you have on hand. Trying to maintain your inventory by hand rapidly becomes complex. However, if you always have a barcode on you, you may scan it to see how much stock you have and where it is.
This approach also allows you to swiftly update quantities, ensuring that your inventory counts are always up to current. Using a barcode inventory system, warehouse personnel may finish their tasks fast. The organization doesn't need to compensate staff for extra hours worked or took them away from other projects to complete the inventory.
Reduce Inventory Shrinkage:
Barcodes provide considerably better control over how much inventory is lost due to shrinkage. Although some stock is lost each year due to clerical mistakes, you should ensure that shrinkage because of theft and fraud is not a problem. Barcode tracking is one technique to promote accountability and openness in the warehouse.
If you use a barcode inventory system, you can look up any item and see how many you have on hand, how many orders there are, and when they will be delivered. Barcodes make it much simpler to maintain and manage your inventory.
Reduce Training Time:
Numerous business owners are interested in purchasing barcodes since they are much faster than having personnel manually enter everything. Many of these business owners may have yet to realize that it can also shorten their time on new hire training.
By digitally updating inventory levels or item movement, scanner technology increases productivity by streamlining the inventory process. Productivity rises as employees need less training on the barcode scanner.
Less Operational Cost:
Barcode's popularity has driven down their cost and made few advancements in recent years. With the acquisition of machines and equipment, you make a single investment; the rest is up to you in managing, maintaining, and repairing them.
For instance, if we are talking about warehouse space, making an incorrect assumption about the quantity and cost of your goods will cost you the money you don't need to spend. It will save you time by giving you more precise data that enables you to reevaluate the costs.
Increasing Asset Utilization:
Knowing the locations of all assets is necessary to improve asset usage. However, since it is not a simple task, many organizations can only partially employ all their resources. Additionally, asset visibility is increased by knowing each asset's precise location thanks to asset monitoring software, and you may use each asset effectively with careful planning.
To enable top-level management to determine whether the equipment is functioning correctly or needs to be repaired, an automated asset monitoring software tracks the condition, location, and performance of the equipment with the asset tracking tags. With this knowledge, asset downtime may be decreased, and asset life expectancy can be optimized and increased.
Enhancing Accounting:
A barcode system can also meet accounting needs since it allows you to easily update data from manufacturing units to distribution units, from equipment maintenance to updating pricing tags and details. By scanning barcode asset tags, you obtain all details and data, making managing your accounts simple and efficient.
Accounting software can be synchronized with a barcode system for your inventory. It allows you to issue invoices, make modifications, and do other things, decreasing communication lags between accounting and other organization elements.
Accurate Analytics & Reports:
Reports and analytics are some of the most critical primary elements. Data can be used to identify issues and avoidance traps, which help identify issues and problems that need to be fixed. Reports further help businesses make wise judgments.
Asset monitoring and maintenance are taken care of for your business when it has automated asset monitoring software. The ability to get alerts and notifications is helpful in many situations. For instance, it can notify staff members of an asset's whereabouts anytime it leaves the organization's boundaries.
Related article: Why AIOPs is Important for Businesses of the Future?
Final Thoughts:
A barcode asset tracking system facilitates improved decision-making. Because it collects data rapidly and effectively, there is no potential for error. When an organization has a large amount of inventory, it helps to protect those items from theft and loss and gives them the ability to manage their stock. Spreadsheet usage is eliminated via barcode asset tracking.
Why should small business owners consider purchasing barcodes? The wise course of action is to order barcodes if they wish to save time and money. Your personnel will need to scan the barcode when a barcode system is in place; the barcode reader will handle the rest. You can stop searching for errors and start concentrating on business using barcodes. It is simple to understand why barcodes are the best option, given the time and money saved.
Barcode asset management software is an excellent investment for small businesses because it may help with ROI and bottom-line optimization (Return on Investment).
Related article: RFID Asset Tracking in Hospitals
FAQs:
How do I set up a barcode for my small business?
Selecting a platform with fully integrated tools that offer the required range of capabilities is the first step in setting up a barcode system. Following that, you must decide how many assets you wish to track. You can always scale up later, but factors like your pricing tier and how many barcodes you need to order and have printed will depend on how many assets you'll be applying barcodes to and track frequently.
The following stage entails starting to barcode-tag your assets and adding data to your asset-tracking system that pertains to each barcode. For instance, scanning a barcode may reveal a product's usage and purchase histories, storage recommendations, departmental ownership, maintenance details, and more.
Does a small business need a barcode?
A barcode system for small businesses helps them automate, and streamline inventory and business activities, giving the entire organization real-time visibility and greater productivity. Other advantages include reducing the time spent on inventory counts, receiving and transferring goods, and picking and packing for fulfillment also help distributors, suppliers, and manufacturers cut labor expenses.