Technology developments over the previous few decades have fundamentally altered the maintenance and dependability sector. Businesses have substantially invested in automation and technology to decrease employee overhead, enhance product quality, and boost safety. A business must spend an excess of time and money implementing a CMMS.
Utilizing a CMMS to manage your maintenance operations creates visibility. It's no mystery that maintenance units frequently struggle with workloads, and time-consuming, manual methods can't keep up with the rapidly changing, increasingly tech-driven enterprises of today. It is why many businesses, both large and small, are using computerized maintenance management software (CMMS) to improve workflow, increase efficiency, and save maintenance costs.
Related article: CMMS Vs. EAM: What is the Main Difference in 2022?
A more contemporary CMMS offering effective asset utilization and increased reliability due to the development of new technologies is a revolutionary event for a facility. As a result, it necessitates a thorough evaluation of the current maintenance procedure and operating culture. The six most frequent errors of the many potential CMMS implementation difficulties are listed below.
Most Common CMMS Software Mistakes That Organizations Make
1. Ignoring Workplace Communications:
The introduction of a CMMS represents a fundamental shift for maintenance departments, but it also impacts those working in production, warehousing, and finance. The integrity and efficacy of the deployment are at risk if a proper change management mechanism is not implemented. The success of an optimal solution and trouble-free integration depends on the cooperation and assistance of all departments. A readiness to hear complaints and suggestions for change, as well as frequent and meaningful contact, support each other.
People will only support the process improvement and data integrity initiative if they grasp the strategic necessity of the implementation or perceive a threat from the change. Introducing a thorough training program helps people become familiar with the new system. Important information is released, and staff issues and required procedure changes are addressed. Without routine activities, technicians and operators should notice a difference and have more time for responsibilities with more significant impact and interest.
2. Improper CMMS Software Usage:
A CMMS system is a handy tool when utilized correctly. A CMMS can help with asset management, maintenance scheduling, and cost control. However, many issues may occur if staff members need to use it properly, either out of carelessness or ignorance.
Most frequently observed user-generated CMMS problems, such as forgetting to input data, inputting inaccurate data, or failing to carry out the continual asset maintenance checks that the CMMS system has identified.
The CMMS software can only deliver essential data when the user feeds regular and complete information to the software. If the software is used ineffectively and improperly, it won't be able to help. As a result, all data and information must be consistently and accurately entered. It will also contribute to the organization's ability to make crucial decisions.
3. Implementation and training compromises:
One of the most significant errors an organization makes frequently is this. They assign someone who needs training or expertise to implement CMMS software. Another error is not offering maintenance team members any training. Considering such, no training is required for the staff. Future problems may be a result of this assumption.
Additionally, to expand your firm, all staff members, especially the maintenance team, should receive thorough training on CMMS software because a maintenance crew member can be of tremendous assistance in time of need.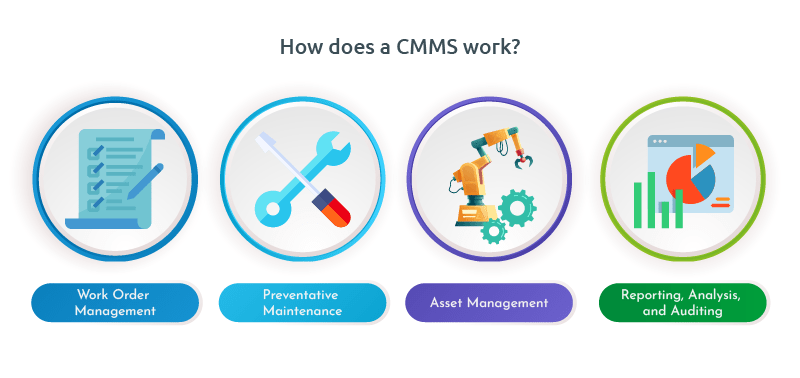 4. Not taking inventory optimization into account:
Implementing a CMMS frequently has tasks and schedules for planned maintenance as its primary focus. Nevertheless, the inventory and warehouse divisions have chances to increase equipment availability, liberate capital, and streamline operations. A contemporary CMMS's inventory feature enables optimum inventory and restocking levels with better spare parts and tool availability.
Inventory modifications are possible with a thorough grasp of component mean-time-between-failure and mean-time-to-repair. Inventory optimization identifies supplier performance concerns, component dependability, and trends in plant failure while liberating idle capital.
Additionally, it can guarantee the calibration of specific tools and equipment to enable availability on maintenance days. These tasks prepare the resources required for each PM activity, allowing maintenance technicians to concentrate on their job. Enhancing technician efficiency shortens the time equipment is out of service for repair, thus affecting equipment availability.
5. Only Considering Reactive Maintenance Investments:
When an organization uses CMMS software but only does preventative maintenance, if such is the case, it is a waste of resources. By purchasing CMMS software, you are wasting your money and shortening the asset life cycle. Additionally, future reactive maintenance costs can be very costly. When performing reactive maintenance, professionals are under pressure to get the machine, piece of equipment, or asset back up and to run. Because of this, other jobs and operations suffer.
CMMS software is quite helpful, especially for the maintenance portion. On CMMS preventive maintenance, one may rely. Naturally, it will result in minor maintenance costs. But you will save a ton of money. Additionally, it will lengthen the asset life cycle and maintain the efficiency and optimization of the asset as new.
6. Existing Maintenance Flaws:
Although maintenance systems must constantly evolve, inefficiencies and redundancies can build up over time. When an incomplete maintenance program is entered into a CMMS, an abstraction obscures the situation and gives the impression of control while yielding insufficient gains. A maintenance program evaluation at the strategic, tactical, and operational levels should be conducted before implementation as part of the CMMS investment.
The operation's maintenance goals should be strategically examined, considering the new opportunities technology presents. A leadership team should examine the fundamental assumptions behind plant dependability, capital intensity, and maintenance expectations. It is essential to acknowledge the need for infrastructure improvements in the future to enable system scaling and adaption.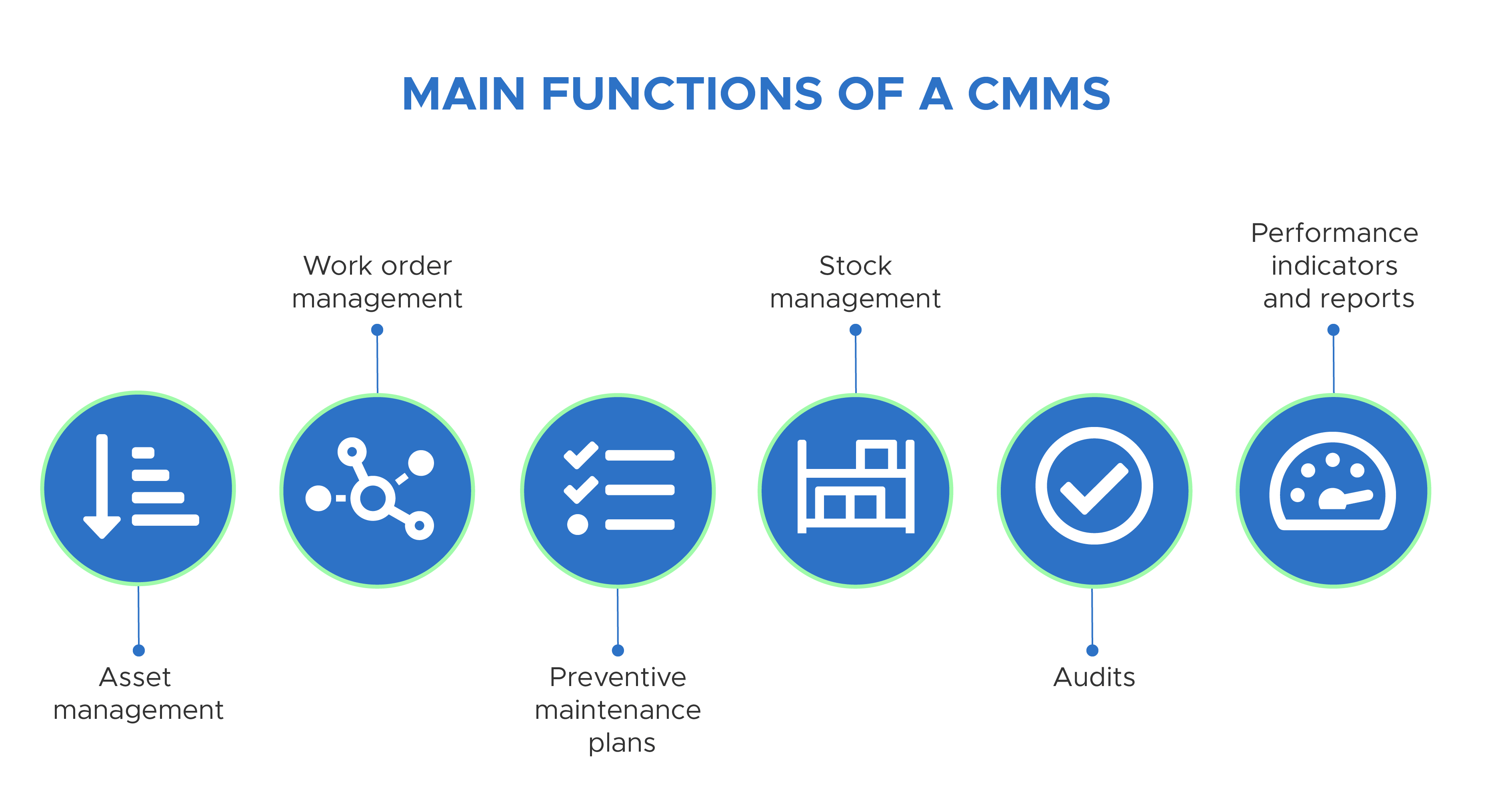 What are the benefits of CMMS?
Automation: Automating manual tasks like scheduling shifts, ordering parts, restocking MRO inventory, compiling data for audits, and other administrative responsibilities help teams concentrate on maintenance-related tasks rather than administrative ones while saving time, reducing errors, and increasing productivity.
Workflow transparency: Technicians and other roles can customize dashboards and visualizations to track status and progress virtually in real-time. The location of an asset, what it needs, who should work on it, and when may all be quickly determined by maintenance teams.
Asset Visibility: Maintenance teams and managers can access centralized data from the CMMS database to find out when an asset was purchased, when maintenance was completed, how frequently it broke down, what parts were used, how efficient it was, and more.
Organizing Field Workforce: It can be difficult and expensive to manage internal and external field workforces. Internal teams and external partnerships can be unified and efficiently deployed using CMMS capabilities.
Preventive Maintenance: An advanced asset maintenance strategy can be created thanks to CMMS data, enabling maintenance operations to switch from reactive to proactive approaches. Data collected from routine operations, sensors, meters, and other IoT instrumentation can provide insights into assets and processes, guide preventive measures, and raise alerts before assets fail or perform poorly.
Final Thoughts:
The path to a successful CMMS deployment can be lengthy and challenging and frequently fail. However, if effectively implemented, it develops into a database of maintenance-related data that can be utilized to carry out best practices and spot chances for improved efficiency. Although it won't happen overnight, good software can be a vital component of your maintenance and dependability strategy and significantly boost organizational performance today and in the future.
Your organization can benefit greatly and save money by using CMMS software. Your machinery will be effective, and you'll be able to spend less on maintenance.
Related article: Hardware vs. IT vs. Software Asset Management – Why the need for specific asset monitoring tools?
FAQs:
How can I improve my CMMS?
The following steps can make implementing a computerized maintenance management system (CMMS) simpler and more efficient:
Workflow processes should be created (or standardized and documented).
Select a multidisciplinary implementation team.
Make the implementation a priority while considering the CMMS implementation procedure.
Configuration work is required.
Educate the core group.
Create and verify data.
Create a go-live strategy with coaching and assistance.
Create a system for process audits to promote ongoing improvement.
How accurate is CMMS?
CMMS is more efficient and precise when users enter as much accurate data as possible. CMMS makes it simple to migrate outdated records (such as Excel spreadsheets and paper files) to a digital recording system without using paper. Additionally, avoid putting off entering data into the CMMS by encouraging your workers and technicians to do so immediately. The risk of workers forgetting essential details or rushing the process later increases when work orders are piled up for "later" system entry. Additionally, it's critical to provide ongoing training to all employees, old and new, especially when new features or software upgrades are being implemented.