What is Server Management?
Server management includes all the monitoring and maintenance necessary to keep your server running reliably and optimally. Server management also includes managing hardware, software, security, and backups. The main goals of server management are:
Minimize server slowdowns and downtime while maximizing reliability
Secure and protect your server environment
Scale your servers and related operations to meet your organization's needs over time
Server Management Basics
Choosing Server Manager Tools: IT service management software allows IT administrators to monitor and improve the overall health of their servers. It also records past outages and event logs to identify recurring trends or issues.
Hardware Management: Starting with the foundation of effective server management, there is hardware. Within this broad topic are several critical hardware elements that should be closely monitored and managed as part of your server management strategy.
The central processing unit (CPU): The CPU is essentially the brain of the server, doing all the calculations to run the program. It's not only important but also heavily used and should be constantly monitored to avoid overloading. Overload can lead to everything from slow operation to complete system crashes. There are several ways to deal with an overloaded CPU. Upgrading is the most obvious option, but you can also add CPU resources from another asset, kill resource-hungry processes or tune overall system performance to free up CPU space.
CPU temperature: All this work causes the CPU to overheat. Servers generally generate a lot of heat, which is why a server farm can be a built-in cold place (even underground or underwater). An overheated CPU can fail with catastrophic consequences.
Servers are equipped with cooling systems and thermometers, making it easy to manage them remotely. If a server gets too hot, an IT technician can shut down the hardware and assess the situation before the heat becomes serious. Overheating problems are often caused by excessive system load or a faulty cooling system.
Random Access Memory (RAM): RAM is the server's working memory which is a temporary storage used for fast operations and caching. RAM is directly related to system performance, especially for certain demanding software. Running out of RAM during normal use can affect performance and prevent certain applications from running.
One or more hard drives provide persistent storage for your server. This is where important data is stored, and since hard drives are often used for caching as well, performance issues can occur when approaching capacity.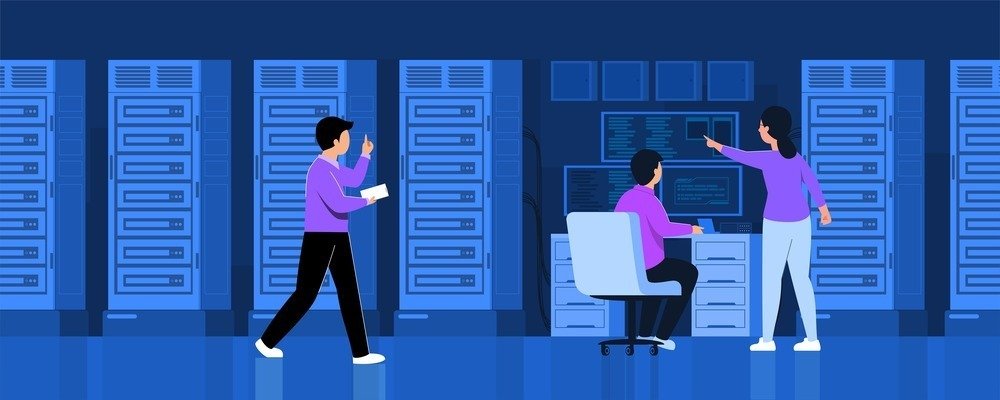 Disk usage must be monitored to ensure that the required amount of storage capacity is always available when needed. Additionally, the health of hard drives must be closely monitored to avoid costly failures that lead to data loss.
Operating environment: The server must be located in a location with optimal environmental conditions. Humidity should be controlled to ensure optimal cooling of the server room. For security reasons, the server should only be accessible by authorized people.
Software Management: IT infrastructure also relies on software to function. Therefore, software, like hardware, needs constant monitoring and regular maintenance. Understanding the software in your IT environment makes it easier to identify and troubleshoot performance problems.
Security: Security is a key issue in all aspects of IT asset management. Server management should include maintaining a secure network from the inside out. Security policies vary from organization to organization, but there are some standard considerations for most use cases.
Stay up-to-date with all software and firmware updates (use patch management tools if possible)
Install and update antivirus software
Install and configure a firewall to block unauthorized network traffic
Establish password policies and establish access controls
Encryption of sensitive data stores and data in transit
Implementation of SIEM tools, logs, and SOC monitoring
Integrate tools and processes required by security best practices and all relevant compliance standards
Benefits of Server Management
Operational Costs: Many server management services are subscription-based and have monthly or annual operating costs, which can be cheaper than building internal capacity.
Scale: Large-scale server management often requires the large-scale monitoring and management that a server management service can provide.
Support: On-call support with guaranteed response times is often a key benefit offered by the best server management services.
Key Features of Server Management Tools
Coverage: Start by deciding which servers and applications your organization will use. Next, make sure the tool you are considering can cover all types of servers and applications in your stack.
User Interface: Basic server administration tasks can be performed from the terminal. However, your terminal may not be able to handle more complex functions. Some server management tools have intuitive user interfaces with visualizations that make advanced tasks easier.
Alerting: The ability to set performance or other thresholds that can generate alerts is important. Think about which notification channels are most important to your company, like email, SMS, or other messaging applications such as Slack.
How Infraon Server Management works
Infraon delivers server management software customized for your business needs. Our software offering provides features like customizable dashboards and remote server management alongside a 24/7 server monitoring guarantee, thus ensuring robust help desk management as well.
Conclusion
Servers handle web hosting, applications, and data storage. It is the backbone of IT infrastructure. Server types may vary for Linux or Windows servers. However, Linux servers are widely available and have become the standard for web hosting.
A well-managed server ensures high performance, scaling, and security. Many server management tools and services are available. You can use them to facilitate task management.
Get to know more about the tool or software before incorporating it. Familiarize yourself with it to keep a good rapport with the company and do the best for your own.