Unmanageable incidents are the stuff that nightmares are made for – as far as ITOps managers and their teams are concerned. Sometimes, risks become issues. Other times, incidents turn into problems. Any of these could lead to disastrous consequences, such as security breaches, unexpected data risks, and unplanned application downtimes – all of which directly impact the organization.
However, thanks to AI, such nightmares no longer need to be relived – as it provides a major boost to incident management.
Make no mistake – AI is already here. It's why reports say that "across 255 million annual contacts, 10% are intercepted by analytics, 15% – through user self-service, and 14% – by various forms of automation."
Related article: Implement Powerful ITSM Integrations with Infraon
Before we get to unpacking the impact of AI, let's address why so many enterprises have fast-tracked their journey to integrate it within their ITSM functions.
The mix of AI, ML, and data analytics brings more accuracy, convenience, and speed to the process when compared to traditional manual-intensive and costly-to-maintain ITSM workflows. Given that scalability and flexibility are some of the foundational pillars of AIOPs, organizations also help mitigate or avoid service barriers:
Service challenges thwarted by AI-powered ITSM
Increasing ticket volume – planned or unplanned
Too expensive to monitor all the applications, devices, and tools
Time-consuming, error-prone data management processes due to siloed infrastructure
Poor omnichannel service and remote support availability
Low service staff productivity
Ungoverned compliance-heavy processes
"Try harder next time…is not a problem management method mentioned in ITIL." – Denis Matte
When incident management met artificial intelligence
A powerful advantage of AI and ML-powered incident management is that it creates a culture of proactive identification, analysis, and resolution. At the end of the day, recurring incidents are often the biggest thorn in the sides of ITOPs teams who aren't equipped with AIOPs tools. Even if they see it coming a mile away, the foresight doesn't make their lives any easier. Managing these incidents will continue to be laborious.
However, with AI and ML power, ITSM tools can quickly identify, analyze and resolve service issues – thanks to state-of-the-art data management practices. It involves ITOPs teams extracting service insights after intelligently interpreting data patterns – collected from disparate systems, sometimes in hybrid environments.
Sounds complex, doesn't it?
Sure it is – if you are still relying on manual processes and human resources.
However, it's barely a challenge for AI/ML technology – as they can work with an unbelievable volume of data sets at skyrocketing speeds.
So, once an incident occurs – your system would be self-powered to take corrective measures if it reoccurs -without manual intervention. Leveraging ML algorithms, the system can also unearth previously undetected behavioral patterns to identify abnormalities long before they get the chance to affect service efficiency.
Other advantages of AI-driven incident management
Creating a repository of AI-powered service insights to speed up root cause analysis
Monitoring at-risk applications 24X7x 365
Prioritizing how problems and incidents are managed
Unearthing potential hotspots to avoid future escalations
Enabling service innovation by freeing up resources
Enhancing security and compliance
"Observe how your users approach information, consider what it means, and design to allow them to achieve what they need." – Donna Spence
Let's talk about the future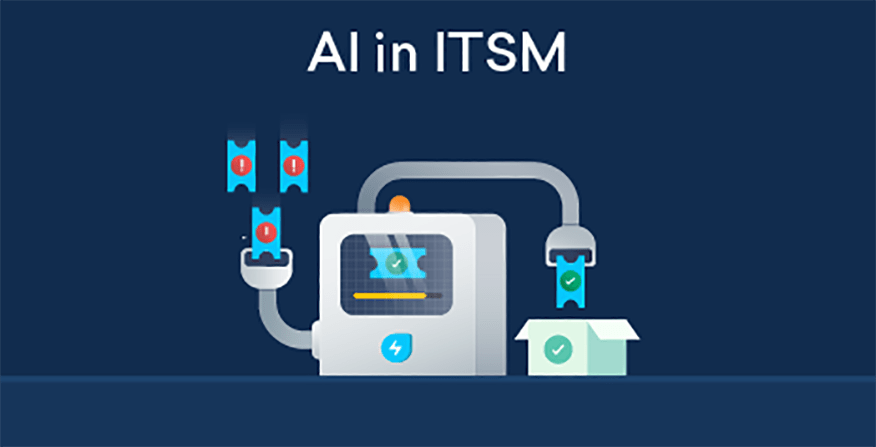 So, what does the future hold for AI's role in ITSM? It probably has a lot to do with empowering users to do more in a lesser amount of time. While it may seem that "speed" is the need of the hour – the keyword, in this case, is "empowering."
It has to be. After all, isn't that the reason why we, as humans, invite technology with such gusto into our lives?
To make it easier for us to focus on doing what we do best?
Then, why should ITSM teams be any different?
Related article: Here's why ITSM is a big deal in the manufacturing world
But reality hits hard. It's why studies report that 69% of service desk executives receive additional training for 10 to 40 hours every year. ​
Hence, whether self-healing endpoints are something to look forward to or not – one thing's for sure.
AI is here to stay in the world of incident management to make life easier for ITSM teams.