What is SD-WAN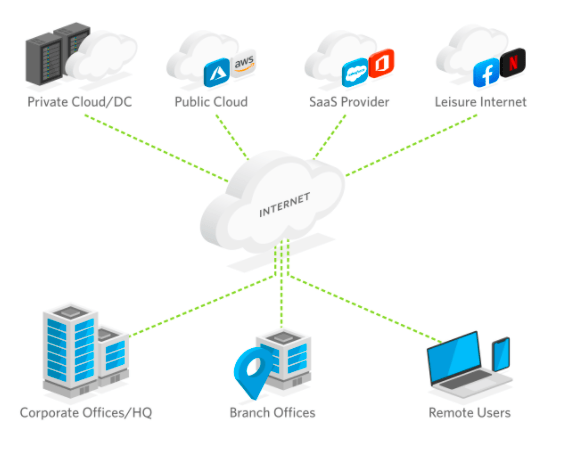 SD-WAN is software to help manage the WAN. It makes the management and operation of a WAN by decoupling the networking hardware from its control mechanism and making it more straightforward.
SD-WAN is a transformative technology used to simplify IT infrastructure management through a virtual WAN architecture that securely connects users to their applications. To understand SD-WAN, we should start with the traditional WAN
What is traditional WAN?
The function of the traditional WAN (wide-area network) was to connect users at the campus or branch to applications hosted on servers in a Data Center. Traditionally, dedicated MPLS circuits were used to help ensure security and reliable connectivity. This doesn't work in a cloud-centric world. Some of the traditional WAN's limitations are:
Limited to enterprise, branch, and data center.
SaaS-application performance problem
WAN expenses can rise with an inefficient use of dedicated and backup circuits
The complexity of connecting multiple types of users with various types of devices to various cloud environments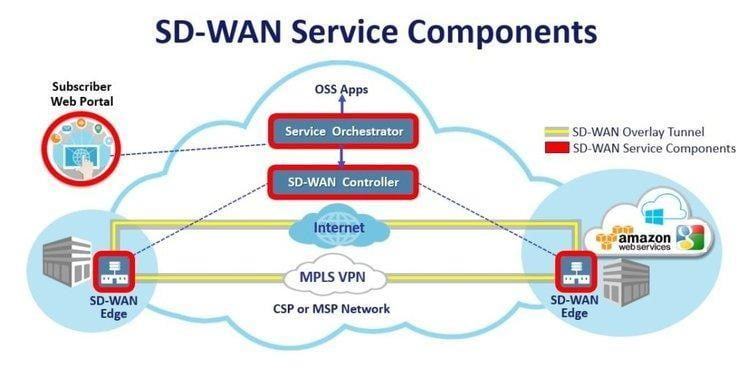 SD-WAN addresses the current IT challenges. This new approach of SD-WAN to network connectivity helps reduce operational costs and improve resource utilization for multisite deployments. Network administrators can use bandwidth efficiently and ensure high-performance levels for all applications without sacrificing security or data privacy.
There are three components to this virtualized network: The SD-WAN edge, the Controller, and the orchestrator.
The network endpoints reside at the SD-WAN edge – a branch office, a remote data center, or a cloud platform.
The Controller offers centralized management and enables the operators to view the network through a single pane of glass. Furthermore, it made it possible to set a policy for the orchestrator to execute.
An SD-WAN Orchestrator is the virtualized manager for – the network, overseeing traffic and applying policy and protocol set by operators.
Advantages/Benefits of SD-WAN
Transport independence across MPLS, 4G/ 5G LTE, and other connections help reduce costs.
Improved application performance and increased agility.
High availability, predictable service for all critical enterprise applications
Multiple hybrid active links for all network scenarios
Software-as-a-Service (SaaS) and public cloud applications could offer an optimized user experience and efficiency.
Simplified operations with automation and cloud-based management.
How Does SD-WAN Work?
SD-WAN creates an overlay to virtualize the WAN with centralized control to simplify the management and deployment of branch-office services.
Enterprise-Grade SD-WAN
The software-defined wide-area networking (SD-WAN) market is at an inflection point. This powerful technology has moved beyond initial deployments and proofs of concept and graduated to full-scale, enterprise-wide adoption.
SD-WAN's rapid rate of enterprise adoption has been driven by a handful of important factors, including:
Integrated management of multiple WAN connectivity types, including MPLS, broadband, and LTE
A centralized application policy controller that enables dynamic path selection across application links
Next-generation SD-WAN solutions should focus on integrated security, multi-cloud connectivity, and application reliability.

Meanwhile, COVID-19 has changed the dynamics in enterprise networking. The global pandemic forced organizations to reconsider how their WANs support those users who access the network from more distributed sites – whether from a traditional campus or branch, from home, or another remote location. SD-WAN platforms must be agile enough to support these various deployment options. In conjunction with more ways to deploy SD-WAN, customers are also exploring new modes of consuming SD-WAN infrastructure via more flexible consumption licensing and procurement models.

SD-WAN Use Cases
SD-WAN to provide temporary VPN connections to the Cloud for DevOps
There was pressure on DevOps teams to work faster because of modern software development practices. They needed to set up and take down test environments quickly. Waiting for VPN connections to the Cloud became unacceptable. The same was true in the case of semi-custom applications deployed. SD-WAN technology overcame the challenge of quickly and securely connecting the users to cloud-based and semi-custom applications. SD-WAN cut the time down to minutes instead of days.
Establishing one-to-many connections of cloud apps to branch/remote offices
In a situation where cloud-based applications will be used from multiple locations, setting up secure connections to all user sites will be slow and more prone to errors. However, if this task were to be performed with the automation capabilities of SD-WAN, it could be completed in ten minutes or less. SD-WAN enables the set up of secure connections in full- or partial-mesh topologies that interconnect enterprise sites, VPCs, and cloud regions.
Managing network traffic with performance and security requirements
SD-WAN products have a GUI-based, central console to implement management policies aligned with your business needs. It can be done with greater speed and consistency than the traditional approach of configuring individual devices via a command-line interface. It' also makes it simpler to set up a policy that will send the network traffic of certain users via only secure connections. Moreover, a policy to only route unified communications traffic over high-capacity circuits can also be set up. Any changes in the policy or a new one can be translated into operational procedures, or rules can be downloaded to all managed devices.
Setting up hybrid WAN topologies that connect enterprise sites
Enterprises rely on MPLS to connect enterprise sites. By moving the WAN traffic onto broadband Internet, you can realize substantial savings. SD-WAN enables easy setting up of secure and hybrid WANs that blend MPLS in different topologies. An administrator can use policy-based management to set priorities and automatically balance traffic across WAN links as circumstances change.
Connecting branch/remote sites directly to the Internet
The increasing dependence on cloud-based applications in organizations is a driver in this use case. Setting up Internet break-outs from branch/ remote offices can be slow, inefficient, and prone to errors in traditional methods. SD-WAN simplifies, and the process gets speeded up. You can also design a shadow appliance on the central management console as a placeholder for your physical device. The zero-touch provisioning enables bringingthe SD-WAN device online without needing an administrative action when plugged in at a remote location.
InfraonIMS – SD-WAN Monitoring Scope
Infraon IMS monitors the key aspects related to Performance and Events in an SD-WAN setup.
Advanced performance features like IPSLA, Flow Monitoring, Deep Packet Inspection, etc., are also getting monitored. Some of the major monitoring features are highlighted below.
Device Monitoring
Device status (All SD-WAN components)
Link Monitoring
IPSLA Monitoring
Jitter/ packet loss/latency
Flow Monitoring
Top Source Traffic – Top Source of Traffic in the Network
Top Destination Traffic- Top Destination of Traffic in the Network
Top Talkers -Top talkers between Source and Destination
Application DPI – Top Application Traffic in the Network by Volume
SD-WAN Alarms/Events
Link/interface up and down
References
https://engage2demand.cisco.com/LP=20906
https://www.sdxcentral.com/networking/sd-wan/definitions/software-defined-sdn-wan/
https://www.cisco.com/c/en/us/solutions/enterprise-networks/sd-wan/what-is-sd-wan.html