Whatever service you provide to customers—financial, SaaS, IT support, staffing, consulting, etc.—you need the appropriate service level agreements (SLAs) to build trust. However, many claim that if people trust one another, why do they need a written agreement, and who will read it anyhow? While it's true that no one likes to read a formal contract before hiring your services, SLAs can be helpful in resolving disputes. They additionally enable managers to assess how well their team meets client requirements.
If you want to learn more about SLAs, this blog is for you. In this SLA guide, we are going to cover various components, benefits, and types of SLAs.
Related article: 5 technology trends that ITOps managers and leaders should watch out for in 2023
What is a Service Level Agreement?
Service-level agreements outline how a service is provided to a client. Many businesses have implemented service level agreements into their operations to maintain positive working relationships with clients and business owners. The reason for its widespread use is that service level agreements guarantee high service standards, effectively manage expectations, outline liabilities, and responsibilities, and also establish frameworks for addressing customer assistance and problem-solving whenever they occur. Regardless of the industry, a service-level agreement is essential whenever reliability and trust in business operations are essential.
A good service level agreement ensures that both parties fulfill their responsibilities and serves as assurance. It serves as a blueprint for the services rendered by the vendor and helps safeguard your company's assets and reputation. SLAs have been around for a while, but they gained popularity roughly ten years ago when outsourcing began to dominate the IT sector. For instance, ensuring an uptime of 99.7% for a product is an example of an SLA for Software-as-a-Service (SaaS) providers.
The Importance of Service Level Agreement
A service level agreement plays a crucial role in IT vendor contracts. It pulls details on all contracted services and their parameters into one complete document. Without a service level agreement, any significant contract is susceptible to accidental or deliberate misinterpretation if a problem arises. This vital agreement outlines a provider's obligations and what will happen if they are not met. This will keep them accountable for bug fixes and support ticket responses, and keep your business running 24/7.
Service level agreements are necessary because they establish rules for acceptable and unacceptable performance issues, set penalties for agreement breaches, and manage customer expectations. Customers can also use them to compare the contracts of several vendors to get the one that best suits their needs. SLAs might also be crucial for more advanced level agreements that include modifications to cloud computing, shared services, and updated contracting procedures. Besides outlining base expectations, service level agreements explicitly specify how to evaluate performance metrics.
SLA Best Practices You Should Follow
When you are working with IT services and cloud providers, you should be cautious regarding service level agreements. Understanding how to discuss these metrics with others, organize, manage, measure, and present them to others is more important than ever. In order to negotiate with any vendor and manage service level agreements, IT teams must adhere to basic best practices. Let's look at some of them.
Read all the terms carefully
It may be tiresome to read the extensive list of terms and conditions found in service level agreements. But if you sign it without fully understanding it, your business could suffer a significant loss.
You could not be eligible for any type of compensation for any harm the application might have caused if you don't follow the regulations. The content in the service level agreements must therefore be carefully read through and understood (SLAs). You can also seek advice from your finance, legal, and other relevant departments if any terms are connected with them.
Keep different SLAs for distinct services
Every service is distinct from the next, and each has its own issues. Each service has its lead time and approval schedule, so while some services can solve an issue immediately, others may take even a day or a few weeks. Therefore, if you are using a single vendor for many services, make sure to always keep separate service level agreements for each service. In this way, you will be able to comprehend crucial information about the various services with greater clarity.
Have a clear goal
Define critical Goals based on a thorough understanding of your present and future business demands. The minimum and maximum requirements for each metric must be established as objectives. For instance, if your company conducts large-scale online transactions, the minimum uptime requirement is 99.999% within 24 hours.
So aim for uptime of 99.999% or higher. Additionally, the price of the service may differ depending on the requirements. Therefore, it is essential that you thoroughly assess the requirements and determine whether the pricing is fair and within your budget. Set straightforward goals rather than combining several elements to create a complex one.
Track performance
Regarding service level agreements, you shouldn't rely on the vendor to provide reports; you should also track your own performance. Both parties will have a thorough grasp and a reliable source for pertinent metrics.
Assuring service providers are delivering the specified level of quality is another benefit of measuring performance. However, it also aids in helping you comprehend the area that needs improvement and holds the supplier responsible for pertinent information in the event of any service lag. Additionally, you are entitled to compensation for any service failures that are stated in the service level agreements.
Get everyone on the same page
Ensure that the business, IT, and the company's strategic partners are all on the same page by aligning service level agreements targets and expectations. Avoid making excessive delivery commitments if your internal service level agreements are incompatible with the service providers.
If you do this, you will be unable to provide the service you promised, which will impact your business relationships with the concerned stakeholders. Therefore, for efficient operation, always ensure that your internal service level agreements align with your providers.
Review and request change
Change is inevitable, so if your needs change over time, you should contact service providers to request an adjustment to your service level agreement. By doing this, you can guarantee that the service level agreement meets your requirements and your intended business objectives at all times.
If your requirements change over time without being shared with the provider, you cannot expect them to alter the service quality. Additionally, if the service provider changes anything about their offering, always request that the service level agreement be updated appropriately.
Encourage the vendor to pursue continuous improvement
To ensure that the providers' designed business objectives are being met over time, set goals that call for continual progress over the course of the term.
Additionally, it encourages vendors to aim for ongoing development and mandates gradual efficiency improvements. Moreover, based on the progress, you may use it as a parameter to determine whether the vendor will be able to meet your future requirements.
Key Components of Service Level Agreement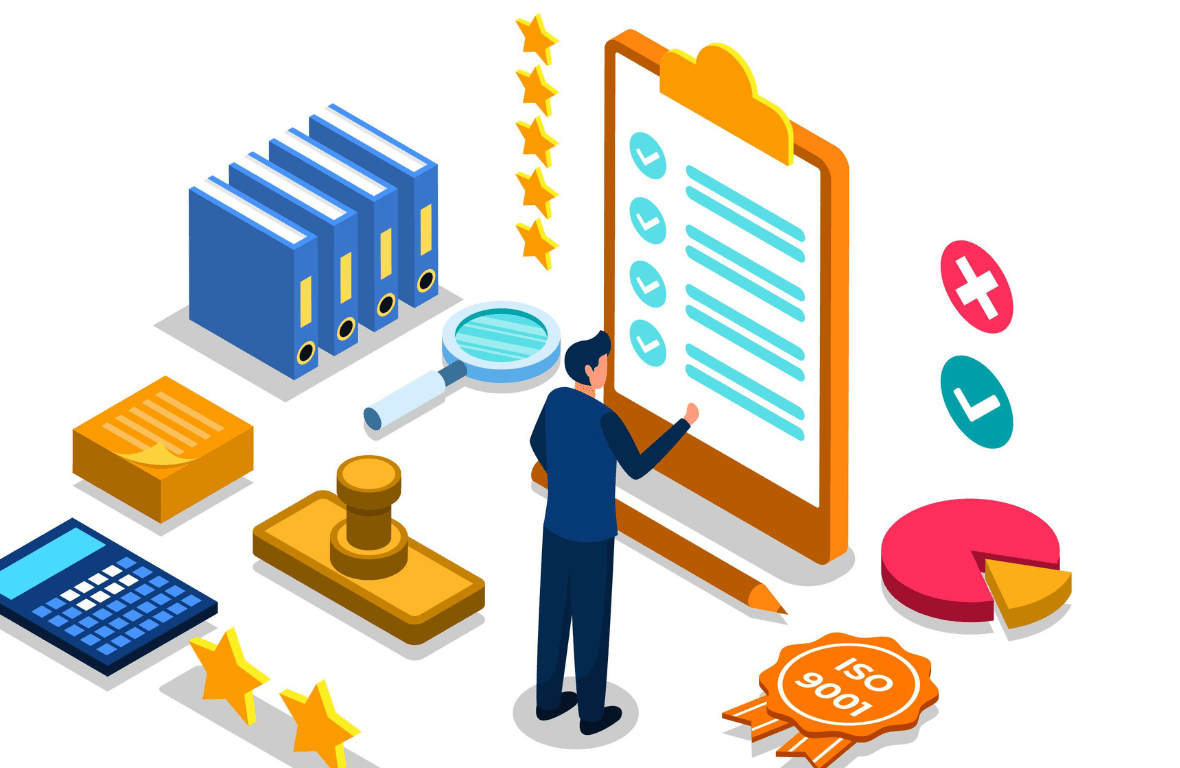 Creating a service level agreement is one of the most critical decisions when you are working with any service provider. This contract specifies you and your provider's expectations and commitments with regard to the services that will be provided. A strong SLA is a useful tool that places your company in a position for long-term IT success.
If you have an idea of what it should contain, it will be simpler for you to create a comprehensive SLA that satisfies the unique requirements of your organization. Every SLA should include these five fundamental components.
Goals and objectives
The first step in creating a successful SLA is defining clear goals and objectives for collaboration with your service provider. What do you want to achieve with the help of a service provider? Do you have any specific IT issues you'd like to fix? In order to meet the needs of your firm, your service provider will be able to tailor the IT services and solutions they provide, helping you to realize your objectives. Setting explicit goals and objectives up front makes it easier to properly evaluate the performance of your partnership.
Description of services
The SLA should include a comprehensive description of the service provider's services. The amount of information provided in the reports should eliminate any ambiguity regarding the subject matter of the agreement. Also, make sure you are aware of the services being offered in their entirety and that they are tailored to your company's needs.
Performance standards
Performance standards determine the expected level of service quality, which the client determines. It includes precise criteria for evaluating the quality of service or performance. The performance standards are verified by comparing the actual service level delivered to these benchmarks.
When setting performance goals, be reasonable. Expectations that are too high could make both parties frustrated. However, if the criteria are set too low, bad service may result. Instead, a happy medium that sets achievable goals and provides room for advancement should be looked after.
Remedies for breach of service obligations
A remedy plan must be in place if your service provider doesn't uphold the requirements stated in the SLA. This might come in the form of credits that can be used to pay for future services or monetary compensation like refunds. There might also be more severe penalties for large or recurring problems, such as the cancellation of the agreement. Having this kind of clause in the SLA safeguards your company if the service provider cannot meet its obligations.
Exit clauses
Regardless of how great things are going now, you might eventually need to stop dealing with your service provider. Your company may have outgrown the services offered, or you may just not be satisfied with the service level. Whatever the cause, having a plan for leaving is essential. The SLA should have a section that describes the procedure for ending the contract and any fees involved. Normally, the service provider cannot be dismissed from its duties without providing a 90-day notice period.
By including these five key components in your SLA, you can be sure that you have a well-rounded agreement that sets your organization up for success.
Related Article: What is Service Catalog?
Final Note
Service level agreements give organizations and service clients the right structure for long-term relationships. They promote the growth of trust, avert conflicts with customers or employees, and improve the quality of your services. A common comprehension of the terms of your contract with your service provider is essential to ensuring everyone involved has a positive experience. Any service provider you select should be more than happy to collaborate with you to create an SLA.
However, having an SLA is not sufficient. Remember to update the contract if your business grows or experiences other changes. Your SLA should always be flexible enough to accommodate any changes in your needs over time. In addition, make sure that your service level agreements don't have to be difficult to understand. Keep it simple, set up distinct SLAs for various services, keep an eye on team performance, and get in touch with users before services are breached.
FAQs
What are the three types of SLAs?
The three common types of SLAs include:
Customer-based SLA
Service-based SLA
Multi-level SLA
What is an example of a service level agreement?
One particular example of an SLA is a data center service-level agreement. This SLA will include the following:
An uptime guarantee that details the percentage of time the system available.
An explanation of ideal environmental circumstances.
The assurance of technical assistance.
Extensive security measures to protect the customer's valuables.
What is SLA vs. KPI?
SLAs are documents that describe the more extensive service agreements between a service provider and its clients, whereas KPIs are typically used to assess how well businesses are performing with respect to their strategic objectives.